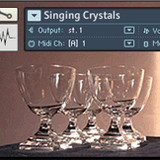 Bolder Sounds has announced the release of Crystal Glasses Volume 2, a sample library for Native Instruments Kontakt.
The Crystal Glasses volume 2 is a project I began in 2007. I worked on it sporadically over the last 3 years. Bolder Sounds already has a very popular sound set entitled Crystal Glasses and Meditation Bowls. So – why create another? The crystals recorded in that library date back to the mid 1990's when 16 bit mono samples was the standard format ( the Meditation Bowls were sampled at a later date in stereo ). Also – the idea of recording these crystal glasses as a group of glasses opened up the door to different sound design opportunities.
Crystal Glasses Volume 2 features
Sampled Articulations:

Hit Crystal Glasses – (3 round-robins per sample zone).
Soft Hit Crystal Glasses – (2 round-robins per sample zone).
Singing Crystal Pads – wet finger along rim of glass.
Granular Crystal Pads – Ethereal pads created via granular synthesis.
Bowed Crystal Glasses – Both short and long articulations.
Crystal Morphs – Kontakt multi instruments which morph between individual instruments.

Extensive scripting for Kontakt giving the user an elegant and intuitive user interface.
Help menu built into the Kontakts front panel.
24 bit stereo sample in .wav format.
Total size of the Crystal Glass Volume 2 library is 490 mb (270 .rar download).
Note: Crystal Glasses Volume 2 requires full version of Kontakt 3+. The Kontakt PLAYER will only run for 30 minutes in demo mode.
Crystal Glasses Volume 2 is available to purchase for $49 USD.
Bolder Sounds has also released Granular Water Bottle, a free instrument for Kontakt and EXS24.
This the Klean Kanteen water bottle I drag around with me throughout my day. It has a very nice resonant 'bonk' sound to it. Originally I thought I'd sample it as more of a traditional percussion instrument and fill it with sand, rice and water etc.. But once I started applying granular synthesis to just a few hits that I recorded that was the end of the line for me. A whole weird world opened up
More information: Bolder Sounds