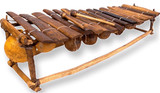 Bolder Sounds has released Toy and African Marimbas, a free sample library for Kontakt and EXS24.
This FREE sound offering originated from a musician named Barry Higgins. Barry contacted me and wanted to "give something back" for all the Bolder FREE Sound offerings. He sent me a sample set of a Toy Marimba he owns to be shared with other Bolder users. Barry is also a maker of fine Native American flutes. You can visit his website at http://www.whitecrowflutes.com. Thank you Barry!

I decided to augment the Toy Marimba offering with a set of samples I've had sitting around for years – a bass and tenor African marimba set complete with buzzing resonators. I've chosen to map both the bass and tenor marimba to the same keymap for convenience. Also, Bo Clausen has contributed a very nice Kontakt script to the library as well. I'll post the alto and soprano marimbas at a later date.
Toy and African Marimbas features
32 MB library for Kontakt 2+ and EXS24.
The African marimbas have anywhere from 5 to 10 velocity switch samples per key.
Kontakt script by Bo Clausen.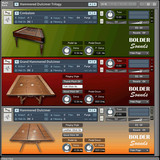 Bolder Sounds has also updated the Hammered Dulcimer Trilogy to version 2 and the Bavarian Zither sample library was updated with a KSP script which is more streamlined in accessing the various articulations.
Changes in Hammered Dulcimer Trilogy V2
Flexible scripting has been added to the Kontakt format.
Channel Strip Settings for the EXS24 as well as improved programming.
Now available for a reduced price of $99 USD for the entire set, or $39 USD for each each dulcimer individually.
More information: Bolder Sounds