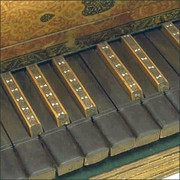 Bolder Sounds has released Virginal, a sample library created from a replica of a 4 octave Italian Box Virginal.
The Virginal is the predecessor of the Harpsichord with the strings running parallel to the keyboard rather than from front to back like the Harpsichord. England's Virgin Queen ( Elizabeth I ) was said to be a fine performer on the instrument.

Virginals were made all over Europe between the years 1500 and 1800. The earliest and some of the best Box Virginals were made in Italy with a spruce soundboard.
Virginal is available to purchase in Kontakt 3 and EXS24 formats for the introductory price of $29.95 USD until the end March 2011.
More information: Bolder Sounds