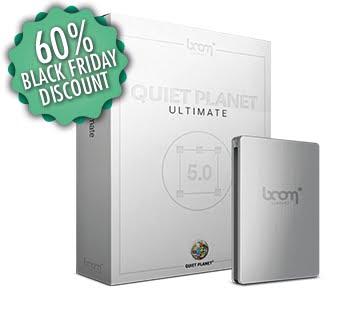 BOOM Library has announced that it offering a chance to get one of the most extensive nature ambient sound libraries for a very special price during its Black November Sale.
The Quiet Planet Ultimate surround collection is available at a 60% discount, while the Complete Quiet Planet stereo collection is 50% off.
QUIET PLANET ULTIMATE collection contains all 17 surround sound packs of the Quiet Planet series recorded by Emmy-Award winning Gordon Hempton and contains more than 350 GB HD nature sound FX. Experience the 5.0 surround recordings with more than 108 hours of recordings. Simply drag and drop the interleaved 5.0 surround files in your favorite sequencer and mix them the way you like it. All files come with detailed metadata to increase your workflow. The QUIET PLANET ULTIMATE collection also includes the stereo version and it comes with free shipping on a hard drive.

THE COMPLETE QUIET PLANET stereo pack comes with more than 108GB of sound FX and contains more than 100 hours of nature sounds made up of all 17 SFX libraries from the QUIET PLANET® series recorded by nature recording specialist Gordon Hempton. It's the perfect toolkit to create background ambiences of movies or game scenes. To increase your workflow the collection has intuitive and useful Soundminer Metadata and the quality sounds come to you on a hard drive.
The sale ends November 28th, 2016.
Make sure to check the huge list of deals for more Black Friday sales.
More information: BOOM Library