BOOM Library has announced the release of its brand-new software plugin Grip, a collaboration with Pole Position Production.
Grip lets you create dynamic and authentic skids, bumps, friction, rolling noises and much more with a variety of wheel configurations, ground materials and perspectives.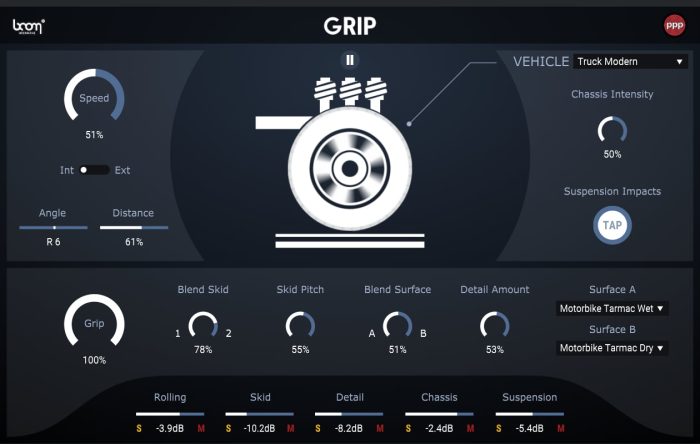 Load Grip in your DAW of choice and design tyre and chassis sounds for your motion picture. A pool of over 650MB source recordings allows you to shape your custom, dynamic vehicle sound without the need of any sample cutting, crossfading, pitching, or aligning.

Start with one of 5 base vehicle types and automate every parameter, such as speed, grip, chassis intensity or different perspectives. Switch between interior or exterior and change the angle and distance as needed in your project.
Grip features
Dynamically produce vehicle wheel and chassis sounds for motion picture.
Choose from 5 base vehicle types.
Automate every parameter such as Speed, Grip, Chassis intensity, Perspective: Interior / Exterior, Perspective: Angle, Distance, Grip / Skid Amount, Skid Blending, Skid Pitch, Surface Blending, Detail Amount, Mix: Rolling, Skid, Detail, Chassis, and Suspension.
Trigger Suspension impacts with a simple tap.
Simple but powerful in-the-box solution.
Eliminate the need for sample cutting, crossfading, pitching, and aligning.
Grip is available in VST, AU and AAX plugin formats at an intro price of 143.20 EUR / $159.20 USD until May 5th, 2020 (regular 179 EUR / $199 USD).
You can try Grip with a 7-day free trial.
More information: BOOM Library