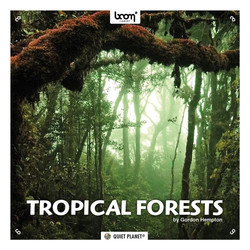 BOOM Library has launched Tropical Forests, a new Quiet Planet series nature SFX library by Emmy-winner and Sound Tracker Gordon Hempton.
To compile this unique treasure of TROPICAL FORESTS, Hempton spared no effort to collect and compile the immense diversity of cloud forests, rain forests and oceanic forests of Ecuador, Brazil, Belize, Australia and Sri Lanka.

TROPICAL FORESTS are loud and dense places – they receive large amounts of solar energy and consequently have the greatest number of species of any place on Earth. Species diversity always means sonic diversity, as wildlife communicate just as urgently as humans do. The high species diversity of these nature reserves translates into more complex ambiences sometimes becoming symphonic with even dramatic wildlife vocalizations. So this collection delivers a real powerhouse of opportunities: it comes with recordings which you would never have thought within your reach, from areas far remote and inaccessible.

Equipped with custom materiel and the will to record the exceptional, Hempton submerged into the wild and came back with this absolutely impressing and outstanding sound collection.
The library is available for purchase in stereo and surround versions, at an introductory 20% discount until February 27th, 2015 (regular 219 EUR/299 EUR, respectively).
More information: BOOM Library / Tropical Forests