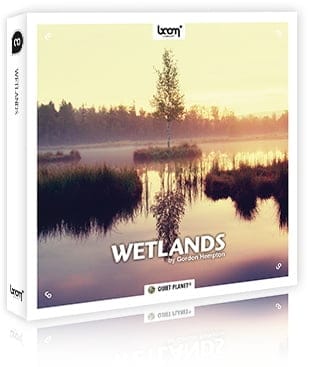 BOOM Library has launched Wetlands, a new sound fx library.
Fresh and ever fascinating: WETLANDS is the ninth SFX library in our remarkable series of high quality nature recordings by Emmy-winner and nature recording genius Gordon Hempton – The Sound Tracker®. He has searched the globe for more than three decades to record nature at its most pristine.

WETLANDS hold genuine treasures and outstanding sonic shapes: ever-changing with the arc of the sun, they are sonically diverse and offer great signal strength. At the same time, they are one of the trickiest habitats to record – all the more well worth the effort. As used here, WETLANDS include places with standing fresh water such as swamps, marshes, ponds, and lakes. In fact, it's the water itself that creates these very special acoustic biospheres – as a propagator of sounds, causing them to travel further and louder due to surface reflections and temperature layers.

Carefully planned and patiently recorded – and topped with favourable luck –, WETLANDS encloses documentation of wildlife and scenery at different day times and intensities. Are you looking for recordings of birds playing and hurrying across the water? Late evening frog concerts? Rainfall lapping on the lake? The slap of a beaver tail? Let these examples give you a fair idea of what this beautiful collection has on its content list.

You shouldn't miss any of the Quiet Planet SFX libraries (NATURE ESSENTIALS, THUNDER & RAIN, WINDS OF NATURE, PRAIRIES, FLOWING WATER, WAVES, TROPICAL FORESTS, DECIDUOUS FORESTS), but as the nature recording guru himself puts it: "It's a pilgrim's journey fulfilled to listen to a wetland."

With its more than 9 GB, more than 9 hrs and a total of 196 files of high-quality material, WETLANDS is another incredible sound package. All sound files come with detailed content descriptions, have smart metadata with geographic location and indicate which animals are audible (SoundMiner® readable).
The stereo version of Wetlands costs 179 EUR; a surround version is 299 EUR. An introductory discount of 20% is offered until September 4th, 2015.
More information: BOOM Library / Wetlands