Boscomac has announced the release of Viola Organista, a free instrument ensemble for Native Instruments Reaktor.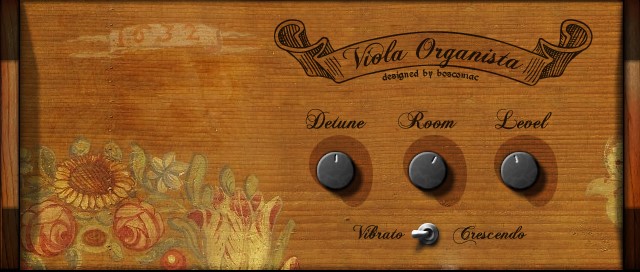 There are those who remember from Leonard de Vinci numerous weapons designs, its war machines, other pictorial works, sculptures, his mathematical approach and some philosophical reflections, etc.

Then there are those who will remember his musical instrument. Yes, I did say "musical instrument" and among all his inventions, the "Viola Organista" is one of the most sensitive.

This is a keyboard instrument that offers a sound like a viol. The idea is ingenious: a system of wheels with horsehair is fixed for rub the taut strings. Under the action of a key, the sound begins to vibrate, result of friction. The expression of this instrument is impressive because the player can play Crescendo on a keyboard!

Leonard did never have built his idea and the first traces of such an instrument back to the early 17th century. Today there is a single copy dating from 1625 kept in MIM (Musee des instruments de musique / Brussels). And even today, there is a single virtual copy, available here in MIB (Musee des instruments de Boscomac / Web), for you, friends of the Baroque.
The ensemble is a free download at Boscomac. Donations are appreciated.
More information: Boscomac / Viola Organista