BOSS has announced the VE-500 Vocal Performer, a unique and powerful vocal harmony/multi-effects processor pedal.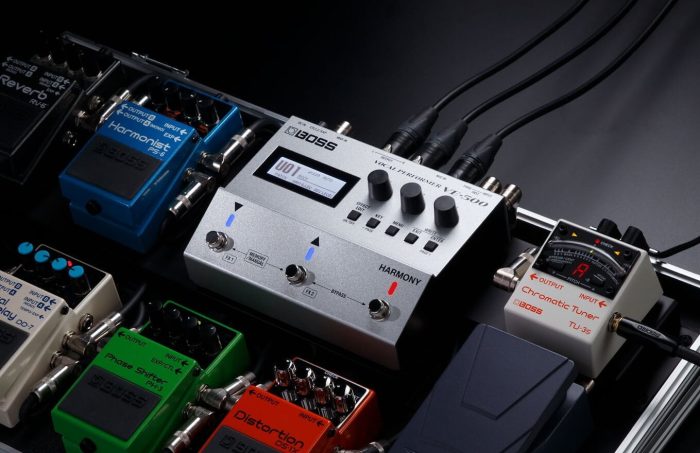 The VE-500 is a high-performance vocal toolkit with automatic harmony/pitch correction, a vocoder, and deep effects options that allow users to process their voice any way they like, from subtle sweetening to the dramatic, over-the-top effects heard on many modern records.
It's the perfect addition to the pedalboard of any singing guitarist, providing top-flight vocal processing right alongside standard guitar effects pedals.
The VE-500's streamlined stompbox configuration makes it simple to integrate with any pedalboard setup. Plugging a guitar into the instrument input drives the harmony, pitch, and vocoder functions, while the Thru output provides an unprocessed signal to feed regular pedals. Three assignable footswitches offer versatile real-time performance control, and stereo XLR outputs enable processed vocal sounds to be sent directly to a PA mixer, stage monitor, or recording device.

Powered by advanced BOSS processing, the VE-500's automatic harmony engine detects the chords and key played with a guitar to generate smooth and natural two- and three-part harmonies in real time as the user sings. Selectable harmony modes provide further options for refining the harmonies to suit songs that have more complex key structures. The harmony engine can alternately be driven via MIDI (through either the VE-500's MIDI or USB inputs), enabling users to generate pitch-perfect live harmonies with a MIDI keyboard or DAW-based backing tracks.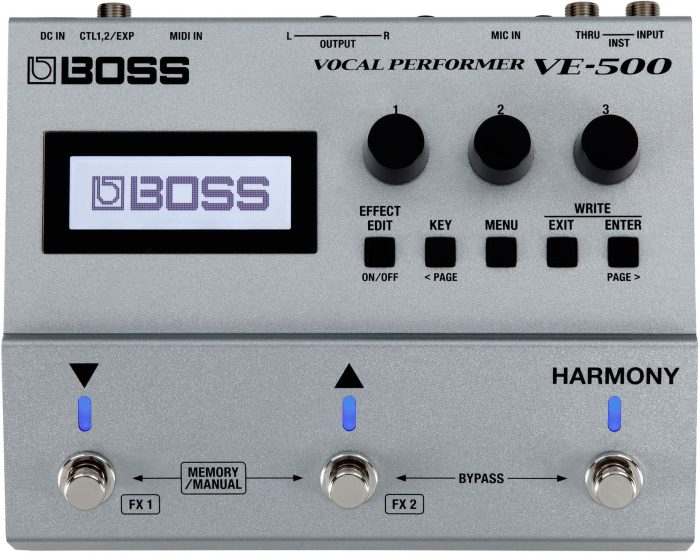 VE-500 features
Advanced vocal multi-effects stompbox for singing guitarists.
Automatic vocal harmony/pitch correction powered by newly enhanced BOSS algorithms for natural sound with smooth tracking.
Class-leading sound quality and high-powered BOSS DSP engine for processing vocals with up to nine effects at once.
Extensive selection of effects specially tuned for vocals; Enhance section for shaping core tone, plus reverb, delay, modulation, distortion, EQ, filter, and many other types for further processing.
Versatile and creative vocoder effect for generating electronic voice and talk box sounds based on guitar input.
Flexible effect routing options for processing live and harmonized vocals together or separately.
Dedicated looper.
XLR mic input with adjustable sensitivity and available phantom power.
Guitar input for harmony, pitch, and vocoder processing; Thru output for sending unprocessed signal to guitar pedals.
Stereo XLR outputs for sending vocal sounds to a PA mixer or recorder.
Three assignable footswitches for real-time performance control, plus support for up to two external footswitches or an expression pedal.
99 user memories for storing patch setups.
Three assignable knobs for quick access to essential parameters while performing.
MIDI input and USB-MIDI for guiding harmony/pitch engine from an external MIDI keyboard or DAW backing tracks.
Editor/librarian software (Mac/Windows) for sound editing and patch management via USB.
The VE-500 is priced at $399.99 USD.
More information: BOSS