BOSS has announced the CP-1X and AD-2, two new effect pedals.
The CP-1X Compressor is a next-generation guitar compressor pedal powered by BOSS's Multi-Dimensional Processing (MDP) technology.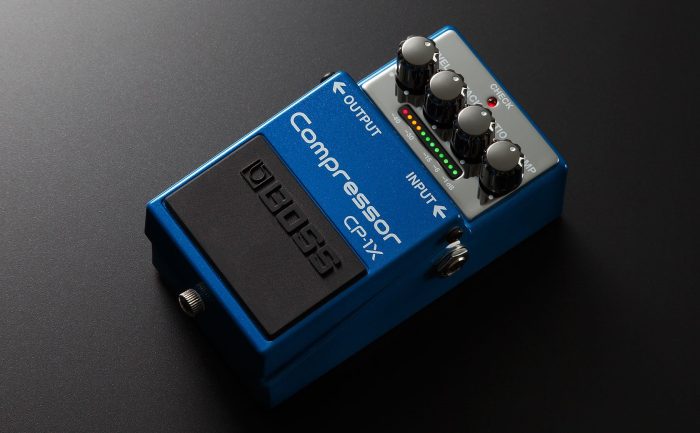 Intelligent processing analyzes the input signal in multiple dimensions in real time, providing advanced dynamics control that never colors or muddies the guitar tone. Optimized for all types of guitars, the CP-1X delivers highly musical sounds for every style of playing.

Standard stompbox compressors color and restrict the sound, and are hard to dial in for various playing styles. The multiband CP-1X eliminates these drawbacks and more, opening up a world of expressive potential. The powerful MDP engine analyzes the guitar's many different tonal elements as the user plays, providing natural compression that intelligently follows and adapts to various techniques. With this high-tech approach, the player's true tone always comes through, even when using aggressive settings for effect.
CP-1X features
Next-generation guitar compressor that uses BOSS's advanced MDP tech to preserve musical expression.
Intelligent circuitry adapts to every register and playing nuance, providing natural compression with exceptional clarity.
Sophisticated under-the-hood processing with multiple interlocking parameters, accessible with simple stompbox controls.
Gain reduction indicator shows the current compression amount at a glance.
Digital circuitry greatly reduces noise, a common problem with standard compressors.
Professional 18-volt input electronics provide ample headroom for clean, punchy sound.
Works with all types of guitars, including seven- and eight-string instruments and acoustic-electrics.
BOSS five-year warranty.
The AD-2 Acoustic Preamp is an advanced sound processor for performing live with acoustic-electric guitars.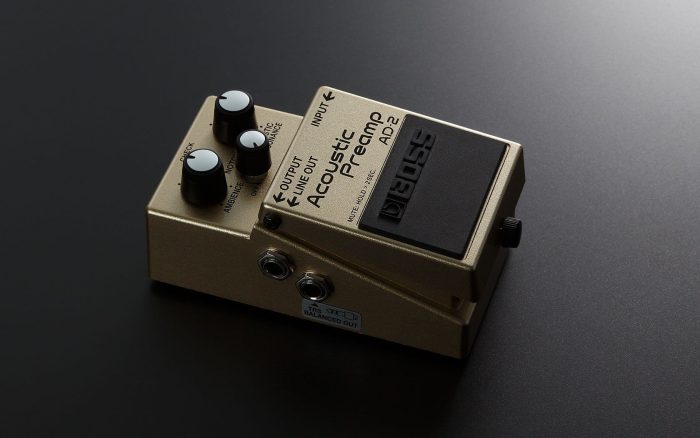 Housed in the familiar compact pedal chassis, the AD-2 features an Acoustic Resonance effect that recreates the complex tonal characteristics of an unplugged acoustic, plus a high-quality reverb optimized for acoustic guitar performance. The pedal also includes stage essentials like a notch filter for feedback reduction, a balanced DI output, and more.

An unplugged acoustic guitar produces a rich, complex tone that simply can't be reproduced by the standard undersaddle piezo pickups installed on most stage guitars. Using powerful BOSS technology, the AD-2's Acoustic Resonance effect solves this issue by analyzing the input signal in real time and employing advanced processing to beautifully recreate the guitar's natural acoustic tone. Twisting the one-knob control adjusts multiple parameters at once inside the AD-2, allowing players to achieve the perfect tonal balance for any style, from delicate fingerpicking to intense strumming.
AD-2 Acoustic Preamp features
Acoustic-electric guitar preamp with advanced BOSS sound processing.
Sophisticated under-the-hood processing with multiple interlocked parameters, accessible with simple stompbox controls.
Acoustic Resonance reproduces the complex resonance characteristics of an unplugged acoustic.
Ambience knob provides wide-ranging, studio-quality reverb optimized for acoustic guitar.
Notch filter for instant feedback reduction.
Normal output for an acoustic guitar amp and balanced DI output for direct PA connection.
Sound mute function for switching guitars and tuning on stage.
BOSS five-year warranty.
Furthemore, Roland has announced the release of its JC-22 Jazz Chorus guitar amp.
The JC-22 offers Roland's classic JC clean tone and famous Dimensional Space Chorus effect in a compact amp that's perfect for playing at home. Built to the same standards of sound and durability that the amp series is noted for, the JC-22 makes legendary JC tone more accessible than ever.

Around the world, the Roland JC series is renowned as the benchmark in clean guitar amplification. With the JC-22, home players can now enjoy that authentic tone in a light, compact package. Offering the essential features of the popular JC-40 in an even more scaled-down size, the versatile JC-22 also works well for intimate performances and recording.
JC-22 Jazz Chorus features
Legendary Roland JC clean tone in an ultra-compact combo.
Stereo 30-watt amp with two 6.5-inch speakers.
Stereo input for true stereo sound with modelers and stereo effects pedals.
Signature Dimensional Space Chorus effect for expansive stereo sound.
High-quality reverb effect.
Footswitch jacks for turning onboard effects on/off.
Stereo effects loop for connecting external effects.