BOSS has announced that its DR-01S Rhythm Partner is now available. The instrument provides percussion backing for acoustic guitarists and other acoustic musicians.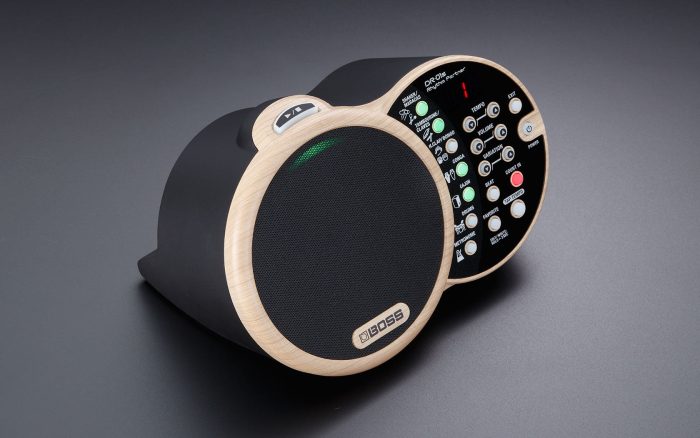 The DR-01S features a powerful integrated sound system, and comes equipped with ready-to-play rhythm patterns that complement unplugged acoustic instruments. Compact, battery-powered, and simple to use, the go-anywhere DR-01S makes playing acoustic music even more enjoyable and inspiring.
Unlike other rhythm machines that are designed for electronic and pop music applications, the DR-01S is a unique product specifically designed for acoustic music. Backed by decades of percussion development by BOSS and Roland, the DR-01S contains a wide variety of organic acoustic sounds derived from high-end products.
Via an intuitive interface, DR-01S users can access simple patterns and variations that are optimized for acoustic music styles. It's also possible to add or subtract instruments – for example, shaker, tambourine, bongos, congas and more – on the fly. Dedicated buttons are on hand to quickly adjust volume and tempo, and to add a count-in before the accompaniment starts. The DR-01S also includes a standard metronome for basic music practice.
The DR-01S is equipped with a sophisticated audio system that produces big, full sound from a small footprint. An Aux In jack allows users to play backing music from a smartphone or other device, while a Line Out jack enables connection to a larger sound system. The DR-01S also supports optional footswitches for start/stop, tap tempo, and triggering sounds.
DR-01S Rhythm Partner features
Great-sounding, easy-to-use rhythm box designed for acoustic musicians.
Filled with simple, tasteful grooves to support and enhance unplugged music styles.
Convenient all-in-one design with high-quality integrated sound system.
User-friendly interface for selecting instrument types and grooves, adjusting volume and tempo, and more.
Seven simultaneous instrument categories include everything from tambourines, shakers, and congas to full drum set, sound effects, standard metronome, and many other sounds.
Dedicated patterns in each instrument category, with the ability to layer patterns from all categories together in real time.
Save 50 favorite rhythm combinations for quick recall.
Control various functions and trigger sounds hands-free with optional footswitches.
Line out for connecting to an acoustic guitar amp or larger sound system.
Aux input enables use as a speaker for a smartphone or other audio player.
Powered by six AA-size batteries or included AC adapter.
The BOSS DR-01S Rhythm Partner is now available, priced at $229.99 USD.
More information: BOSS / DR-01S Rhythm Partner