BOSS has announced the availability of the GT-1000, a premium amp and effects processor for guitarists that is designed for superior tone and exceptional musical response.
The GT-1000 is the first-ever guitar multi-effects processor with 32-bit AD/DA, 32-bit floating-point processing, and 96 kHz sampling rate throughout. Driven by BOSS's latest custom DSP engine and filled with cutting-edge BOSS technologies, the GT-1000 delivers class-leading performance in a compact and lightweight floor-based unit.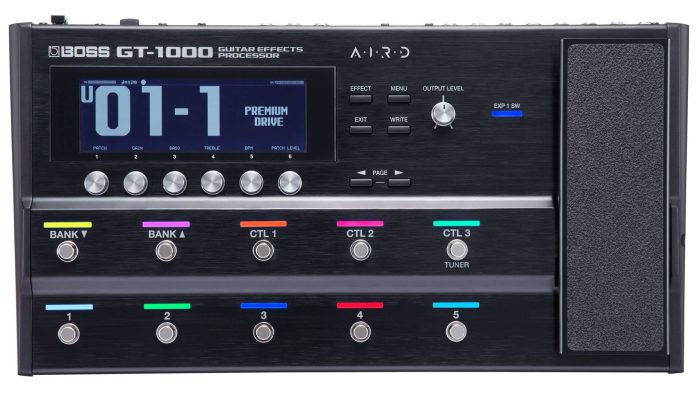 The GT-1000 includes a wide range of expressive amplifier types, newly built with the comprehensive Tube Logic design approach behind the acclaimed Katana, Waza, and Blues Cube amplifiers. Also featured is the groundbreaking AIRD (Augmented Impulse Response Dynamics) technology, realized with BOSS's extensive research into the complex component interactions in classic guitar amplifiers. AIRD provides fully optimized performance with all types of devices, bringing new levels of audio quality, flexibility, and practical usability to this product category.

By choosing from a large selection of AIRD Output Select types, users can perfectly tailor the GT-1000 for any destination, whether it's a guitar amp input, an amp effects return, a power amp driving guitar speakers, or a full-range monitoring system. In addition to the built-in AIRD Output Select types, there are user locations for loading additional selections from the GT-1000 AIRD Output Select Library software.

For direct applications in the studio, the GT-1000 features a Recording mode with a variety of built-in speaker and microphone types. Users also have the ability to import WAV-format speaker impulse responses with the GT-1000 IR Loader software.
GT-1000 features
Flagship guitar amp/effects processor with uncompromising sound quality and unmatched expressiveness.
Industry-leading 32-bit AD/DA, 32-bit floating-point processing, and 96 kHz sampling rate throughout.
Next-generation BOSS DSP engine, custom designed specifically for music applications.
AIRD (Augmented Impulse Response Dynamics) technology realizes BOSS's acclaimed Tube Logic concept in a digital guitar processor, delivering natural feel and optimized integration with all types of external devices.
Highly expressive amplifiers, meticulously crafted with AIRD.
Massive selection of onboard effects, including BOSS MDP effects and algorithms directly ported from the DD-500, MD-500, and RV-500 pedals.
Amps and effects can be routed in numerous series and parallel combinations.
Ultra-fast patch switching and delay carryover.
Innovative Stompbox feature greatly simplifies using common effects settings in many different patches.
Easy operation with large display and six user-assignable switching knobs.
Ten footswitches and integrated expression pedal with user-configurable assignments and LED colors.
High-resolution tuner with two display modes and mono or polyphonic operation.
¼-inch main outputs and XLR sub outputs with independent AIRD Output Select settings; loop for external stereo or mono effects.
Support for external control via footswitches, expression pedals, MIDI, and USB.
Built-in Bluetooth for wireless editing via BOSS Tone Studio app for iOS and Android mobile devices.
USB audio/MIDI interface for computer-based recording and editing.
The GT-1000 Guitar Effects Processor is available now for $999.99 USD.
BOSS Tone Studio for GT-1000, the GT-1000 AIRD Output Select Library software, and the GT-1000 IR Loader software will be available in May 2018 as free downloads for Mac and Windows computers.
More information: BOSS