BOSS has announced the latest generation of the long-running OC series of octave pedals for guitar and bass. The OC-5 Octave offers the most advanced BOSS octave performance to date, featuring a new Vintage mode, polyphonic enhancements, and an octave-up feature for extended range.
With the latest tracking technologies, users can enjoy smooth, accurate playability with no latency. Highly versatile and easy to use, the OC-5 covers a wide variety of octave sounds in one high-performance pedal.
Introduced in 1982, the OC-2 Octave was the world's first modern octave pedal for guitar and bass, and its characteristic voice can be heard in many famous songs. The OC-5's Vintage mode delivers the OC-2's iconic mono sound, coupled with improved response thanks to the new tracking engine. Dedicated level controls are provided for -1 and -2 octave effects and the direct sound, giving quick access to a variety of sub-octave colors.

The OC-5 also features an evolved version of the smart Poly mode first introduced with the OC-3 Super Octave, letting users play full chords with octave effects. The variable Range knob restricts the effect to only the lower notes on an instrument, perfect for playing octave bass lines alongside normal chords and melodies in the higher registers. In addition, it's now possible to isolate the octave effect to the bottom note in a chord by turning the Range knob to the "Lowest" setting.

The OC-5 introduces a new octave-up effect, which is available in both Vintage and Poly modes with a dedicated +1 OCT knob. Players can use the octave-up effect on its own for faux 12-string sounds and unique solo tones, or blend it with the octave-down effects for extended chord voicings and super-fat leads.

Via a dedicated switch, the OC-5's tracking engine can be optimized for either guitar or bass. And with the Direct Out jack, users can route dry and effect sounds to different destinations, such as two stage amps or discrete channels on a mixer or audio interface.
The BOSS OC-5 will be available for $129.99 USD in late September 2020.
BOSS has also introduced the Pocket GT, a powerful and innovative new solution for learning and jamming with guitar.
Combining premium BOSS guitar tones with integrated YouTube learning, this pocket-size amp/effects processor pairs wirelessly with a smartphone or tablet to create the ultimate go-everywhere lesson studio.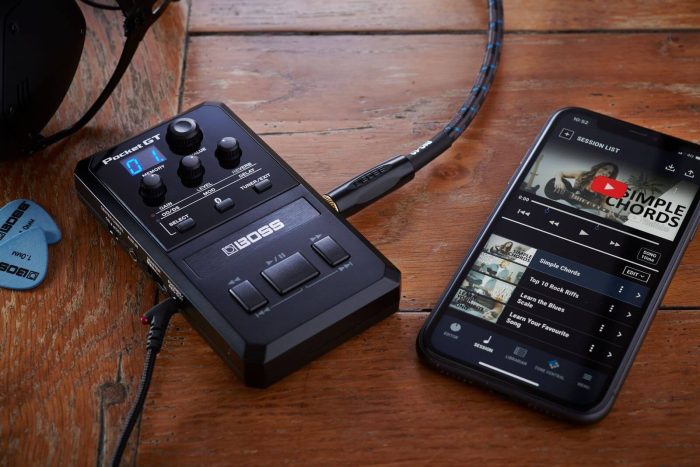 Pocket GT works seamlessly with the companion BOSS Tone Studio app for iOS and Android, which features a YouTube browser and deep editing tools for crafting tones with over 100 amps and effects. Adding in Bluetooth music streaming, USB audio interface capability, and more, Pocket GT is a must-have companion that no guitar player should be without.
YouTube has become the most popular music learning source for guitarists around the world, and Pocket GT makes working with the platform's content easier and more productive than ever.
The Pocket GT hardware provides the sound engine and audio connections, while the BOSS Tone Studio app offers a YouTube browser that streams sound to Pocket GT, plus an intuitive interface for shaping sounds. This integrated approach simplifies set up and eliminates switching between apps, giving players a hassle-free way to enjoy premium guitar tones while watching online lessons and jamming with videos.

BOSS Tone Studio comes loaded with tools to supercharge practice sessions. Users can create YouTube song lists for quick recall, and loop sections for focused study. They can also set up markers to automatically switch Pocket GT memories as a video plays back, perfect for jamming with backing tracks and other songs on YouTube.

Equipped with the same sound engine as the best-selling GT-1 floor processor, Pocket GT puts over 100 world-class amps and effects in an ultra-compact package. The 99 user memories come filled with ready-to-play sounds, but players can customize them or craft their own from scratch. And since Pocket GT and the GT-1 share the same DNA, stored amp and effects setups can be exchanged via their respective BOSS Tone Studio editors.

Pocket GT's simple-yet-powerful interface puts an array of essential functions at the player's fingertips. They can scroll through user memories with a dedicated knob, tweak amp gain and effects levels, and activate the built-in tuner with a quick press. Remote control buttons are provided as well, providing fast access to YouTube playback. And with the Center Cancel switch, users can instantly reduce the volume of vocals and guitar solos in songs for minus-one playing.

Pocket GT doesn't only work with YouTube. Users can wirelessly stream nearly any music app over Bluetooth and play along, and there's also an Aux In jack for connecting a non-Bluetooth music player, drum machine, or other device. Pocket GT functions as a Mac/Windows USB audio interface too, ready to record mix-ready guitar tracks in a computer DAW. And for fresh sonic inspiration, players can find a wide selection of free patches for download at BOSS Tone Central.
The BOSS Pocket-GT will be available for $249.99 USD in September / October 2020.
More information: BOSS