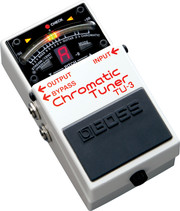 Boss is now shipping the TU-3 , an updated version of the pedalboard standard TU-2 chromatic tuner.
The TU-3 is the stompbox tuner for the next generation of guitarists and bassists, retaining all the features of its predecessor while adding many new tricks of its own.

BOSS has been the industry leader in instrument tuning technology since 1983, when it introduced the TU-12, the world's first automatic chromatic tuner. This technology was later integrated into the popular BOSS compact pedal format with the TU-2, a stompbox that has gone on to become the bestselling pedal of all time. The TU-3 simply makes the best even better by adding a number of functional enhancements to the original's solid specs.
TU-3 features
21-segment LED meter with brightness control.
High-Brightness mode enhances meter visibility outdoors.
Accurate to +/- one cent.
Accu-Pitch Sign function provides visual verification when tuning is complete.
Chromatic and Guitar/Bass mode (tune by string number, with support for 7-string guitars and 6-string basses).
Flat tuning is supported with Guitar Flat mode, which allows for "drop" tunings up to six semitones below standard pitch.
Tuner automatically mutes when the tuner is on.
Supplies power for up to seven BOSS compact effect pedals (with optional PCS-20A Cable).
The TU-3 is now shipping with a retail price of $160.50 USD.
More information: Boss / TU-3 Chromatic Tuner