Bedroom Producers Blog has announced the release of BPB Cassette Drums, a freeware drum machine VST/AU plugin bundle based on the Cassette 606, Cassette 808 and Cassette 909 drum sample packs.
Designed and developed by Crimson Merry, the bundle comprises 3 individual plugins: Cassette 606 VST, Cassette 808 VST and Cassette 909 VST.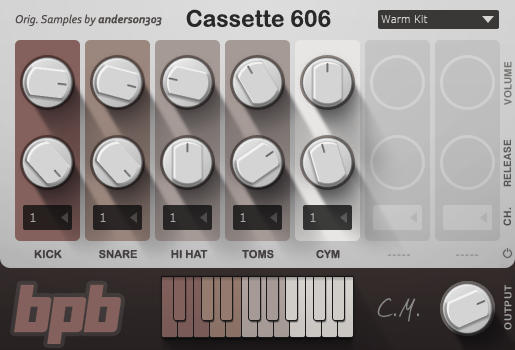 The instruments are based on our free Cassette 606, Cassette 808 and Cassette 909 sample packs, featuring the sounds provided by Edgar Maguyon, Gregor Zemljic and Reddit user Anderson303. Each plugin comes with a set of three drum kits: Clean, Warm and Hot. The Clean kits are based on the raw, unprocessed recordings of Roland TR series drum machines, whereas the Warm and Hot kits feature the saturated drum hits that were re-sampled from an audio cassette deck.

Each plugin features a customized user interface with direct access to volume and release parameters for each drum hit. It is also possible to route the drums to individual outputs if you'd like to process them separately in your digital audio workstation of choice. A global volume is also available, as well as on on-screen keyboard for quick and easy playback of the included sounds.
The plugins are a free download for Windows and Mac (VST/AU) from Bedroom Producers Blog.
More information: Bedroom Producers Blog / BPB Cassette Drums