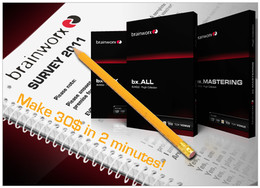 Brainworx has announced its BX Survey 2011.
We have prepared a little survey for you. Please let us know a little bit about you, and we´ll turn your answers into bx_C@$H!

Submit your info now. Earn a 30$ voucher in 2 minutes! Valid until August 30, 2011.
Besides awarding participants a $30 USD voucher, brainworx is also giving away 3 bx_ALL bundles (worth 766.50 EUR / $1,120 USD eachn) in a lottery.
More information: Brainworx