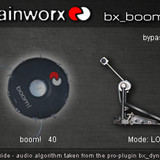 Brainworx has released a mono version of bx_boom!, a bass drum equalizer effect plug-in for Windows and Mac.
bx_boom! was developed to be a bass drum "tuning EQ" for STEREO mixes and master buss processing.

Many users have asked us for a dedicated MONO version of bx_boom! to be used on any mono bass drum channel insert… HERE IT IS!
bx_boom! features
3 different modes (lo / mid / hi).
Hi-end BRAINWORX band pass-filters.
Boost and attenuate your bass-drum in a final mix(!) or an individual drum loop.
Taken from bx_dynEQ, our new hi-end dynamic EQ & compression system.
Fully automatable.
Dedicated BYPASS switch (cymbal sign) in the plug-in GUI.
"Mouse over feature": adjust the parameters by holding the mouse over the bass-drum or the pedal and simply turn your mouse wheel..
Direct access: just type in any valid number into the text fields for direct access to the exact value.
bx_boom! is available to purchase as a native effect plug-in for PC and Mac (VST/AU/RTAS) for 89 EUR. A TDM vesion is available for 133.50 EUR (prices excl. VAT). bx_boom! mono is a free upgrade for all bx_bundle, bx_dynEQ and bx_boom! users.
Until 15 July you can use a free $50 USD / 33 EUR voucher, valid for any order exceeding 98 EUR ($146 USD). Use promo code fk8ti4 in the online store to take advantage of this offer.