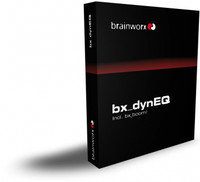 Brainworx has announced the release of bx_dynEQ V2, a dynamic equalizer effect for Windows and Mac.
The concept of the bx_dynEQ V2 is a truly NEW approach to dynamic EQ-ing, using innovative M/S features and the new "Inverse Mode" to allow for results not possible with any other EQ.

bx_dynEQ V2 is a mini-bundle in itself, containing bx_dynEQ mono, bx_dynEQ stereo (L/R) and bx_dynEQ stereo (M/S).
bx_dynEQ V2 features
1-band and 2-band dynamic EQ.
Mono, multi-mono and stereo (L/R & M/S).
BRAINWORX critically acclaimed filters.
Complete set of filter types for both, main audio path and sidechain: low & high shelving, peak bands, band-pass filters, high-pass, low-pass, bass-shift, presence-shift.
New and innovative solo modes.
New "Inverse Mode".
New external sidechain input.
M/S inside… M/S stereo width control on any stereo channel.
M/S cross-feed feature for sophisticated results.
Dedicated BYPASS switch in the plug-in GUI.
"Mouse Over" feature: adjust the parameters by holding the mouse over any knob and simply turn your mouse wheel.
Direct access: just type in any valid number into the text fields for direct access to the exact value.
EQ panel with multi-mode EQ display (actual EQ-curves & sidechain filter curves).
Fully automatable.
bx_dynEQ V2 is available to purchase for the introductory price of 99 EUR for registered Brainworx users, or 149 EUR for new customers until April 30, 2011 (regular 199 EUR). Prices excl. VAT.
Brainworx has also announced bx_ALL, bx_MASTERING, and bx_MIX, three new bundles with up to 30% discount compared to individual plugin prices.
More information: Brainworx