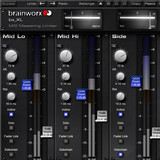 Brainworx has released bx_XL, a low latency M/S mastering limiter for Windows and Mac.
Its main purpose is to help you get your mixes loud while keeping them clear (undistorted). "As loud" as any major label production and less "squashed" than many of them.

bx_XL internally converts stereo signals into M (mid / sum) and S (side / difference) signals and splits the M channel into 2 bands (hi & lo). This way you can limit and level 3 individual channels to increase loudness and improve clarity of stereo mixes drastically – with much less distortion artifacts and while keeping much more "punch" than any other limiter system.
bx_XL is now available to purchase for PC and Mac (VST/AU/RTAS) for the introductory price of 199 EUR / $279 USD until 25 November, 2010 (regular price 299 EUR / $419 USD).
Previous customers can order bx_XL for 149 EUR / $209 USD. All prices excluding VAT if applicable.