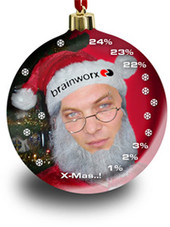 Brainworx has announce the return of the Reversed Advent Calendar, a chance to save up to 24% on "everything BX".
Brainworx Reversed Advent Calendar 24% off Dec 1st, 23% off Dec 2nd, 22% off Dec 3rd, …, 1% off Dec 24!

Everybody at Brainworx would like to say thank you for another great year.
2010 has been the best year ever for Brainworx, and it's like that because of you!

To celebrate this with you we are starting our biggest sale of the year tomorrow (Dec 1st), with up to 24% discount on "everything BX", even on the bundles (which are already disocunted compared to the single plugins by 25%)!

Get bx_digital V2, bx_XL or any bundle or upgrade at (almost) "holy rates". ;-)

The faster you are the more you save … Ask your dealer for the bx_deals as well!
More information: Brainworx