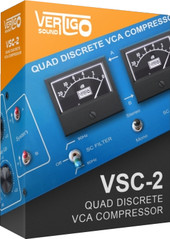 Brainworx has released the Vertigo VSC-2, a quad discrete VCA compressor plug-in for Windows and Mac.
Modeled faithfully after Vertigo's 6,000 $ flagship compressor. Vintage King calls it the 'Mercedes of VCA Compressors' on their website. Hear it to believe it.
Vertigo VSC-2 features
Precision

– Its precision makes the VSC-2 a first choice for mastering applications and the stereo mix bus.

Tracking & Mixing

– Although the VSC-2 was developed as a Stereo Bus Compressor each channel provides a complete set of controls which also makes the VSC-2 a dual mono "Must Have" in recording and mix situations.

Plugin

– The VSC-2 plugin offers the same flexibility and precision in the stereo version, and to emulate the dual mono approach of the hardware we have developed a true mono version of the plugin as well.
The Vertigo VSC-2 is available to purchase for the introductory price of 199 EUR (20% off regular price of 249 EUR) until November 30th, 2011. Existing Brainworx customers can get an introductory price of up to 50% off.
More information: Brainworx / Vertigo VSC-2