Bram Bos has launched Troublemaker, a synthesizer instrument for iOS.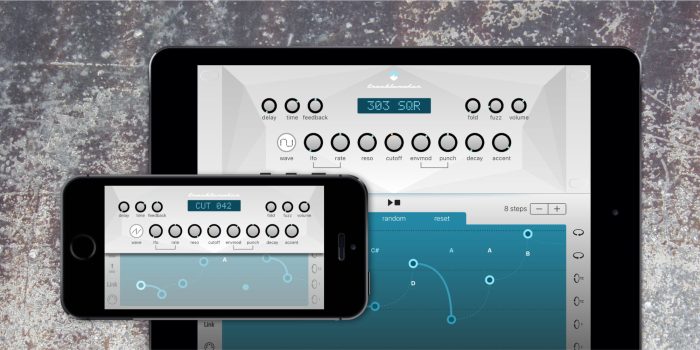 The legendary TB-303 has magical properties; it is filled to the brim with analog shimmer. Its output jack is a gateway to a parallel universe and when you twiddle the filter knobs an army of highly trained pixies chisel the square waves from freshly harvested unicorn souls. So if you want a TB-303, you should buy a TB-303. But if you're after *that sound* Troublemaker will give you everything you need in spades.

Troublemaker sports a carefully crafted diode filter emulation and among the available oscillators are the typical raspy, nasal sawtooth and rubbery squarewave with its oddball shape and shifting pulsewidth.
Troublemaker is fully Audio Unit (AUv3) compatible, so you can run multiple instances in your favorite DAWs. It also features Ableton Link support, MIDI CC mapping, Core MIDI, Virtual MIDI, Bluetooth MIDI input, Audiobus 2 support, exports to MID and WAV files from its sequencer straight into your iOS DAW, and it can actually sound like a bass guitar.
Troublemaker is available for purchase for $9.99 USD.
More information: Bram Bos / Troublemaker