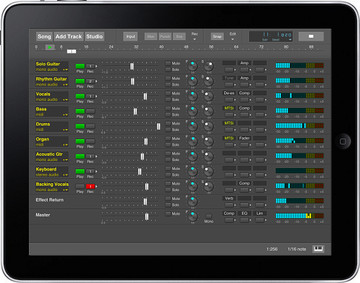 Bremmers Audio Design has launched MultitrackStudio for iPad, a streamlined, simplified version of the MultitrackStudio audio/MIDI multitrack recording software.
It's even easier to use, even more straightforward and even more fun.

Think MultitrackStudio but leave out the computer problems and distractions… that's MultitrackStudio for iPad!
MultitrackStudio for iPad features
Up to 16 audio/MIDI tracks, audio tracks can be mono or stereo.
Editors: audio, pianoroll, drum, score, MIDI controllers, timesig/tempo and song.
One effect return section.
One master section.
Three effect slots per mixer section (two for MIDI tracks).
Effects: Automated Fader, Chorus, Compressor, DeEsser, Echo, EQ, Flanger, Guitar Amp, Master Limiter, Noise Gate, Phaser, Pseudo Stereo, Reverb, Saturator, Tremolo, Tuner and Vibrato.
MIDI instruments: MultitrackStudio Instruments (General MIDI compatible) and one CoreMIDI output device.
MIDI sources: onscreen keyboard (keyboard, drum and various string layouts) and one CoreMIDI input device.
Audio sample rate: 44.1 or 48 kHz.
Imports .wav, .aif, .mp3, .mid and various other audio file types.
Exports .wav and .mid files.
Exports .zip file containing all files needed to open song in MultitrackStudio for Windows/OS X.
The app is available to purchase at an introductory 40% discount until January 20th, 2014, priced at $18 USD (regular $30 USD).
More information: MultitrackStudio for iPad