Bremmers Audio Design has released an update to its MultitrackStudio for iPad, an audio/MIDI multitrack recording app featuring high quality audio effects including a guitar amp simulator.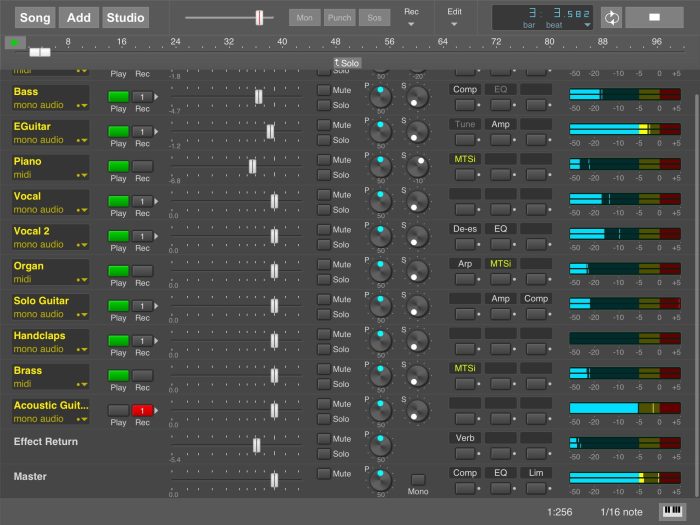 Both audio and MIDI tracks can be edited. MIDI editing features include pianoroll, drum and score editors.

The straightforward user-interface has been designed with tape-based recording in mind. It's easy to use yet powerful.
Changes in MultitrackStudio v3.2
MIDI editors: you can now select a note by just tapping it (you no longer have to wait for the selector to pop up). Also applies to dots in automation/MIDI controller editors.
MIDI editors: notes being added are less likely to be covered by your finger.
MIDI editors: New 'Duration only' quantization type. The existing 'Full' en 'Keep Note Off' types have been renamed to 'Start and End' en 'Keep End'.
MIDI editors: Quantize resolution selector menu now has 'Type value' option which allows for entering tuplets. You can type '5 in 1/4' to quantize to quintuplets of 16th for example.
Score editor: vertical zooming now uses much smaller steps, this makes it more useful.
EQ: graph now has 6 colored dots, corresponding to the 6 EQ bands. Dots can be moved (the corresponding frequency and gain knobs will be adjusted accordingly). Dot movements can be recorded as automation (Pro Extension).
EQ can now show audio spectrum. The 'Spectrum' menu provides several settings. (Audio spectrum used to be displayed in the Master section only and you couldn't customize anything.).
An EQ effect in the Master section can now display a reference spectrum. A standard one is built-in, and you can extract the spectrum from audio files using the 'Import' option.
Master Limiter / Noise Gate: histogram 'curtain' movements can be recorded as automation (Pro Extension).
External MIDI Instrument windows: Patchmap selection is moved to options menu ('hamburger' button). The default patchmap can be selected there as well (was in Preferences pane).
Devices pane now has option to enable iOS measurement mode.
Added audio latency options of 128 and 64 frames.
SoundFont Player: better support for soundfonts with very large release times (like 'GeneralUser GS'). You need to import the soundfont again to benefit from the improvements.
AU compatibility improvements.
The app is available from the App Store for $29.99 USD, with Pro Extension and Track Pack available as in-app purchases.
More information: Bremmers Audio Design