Bremmers Audio Design has released an update to MultitrackStudio for Windows and macOS, featuring several improvements in the MIDI sequencing department.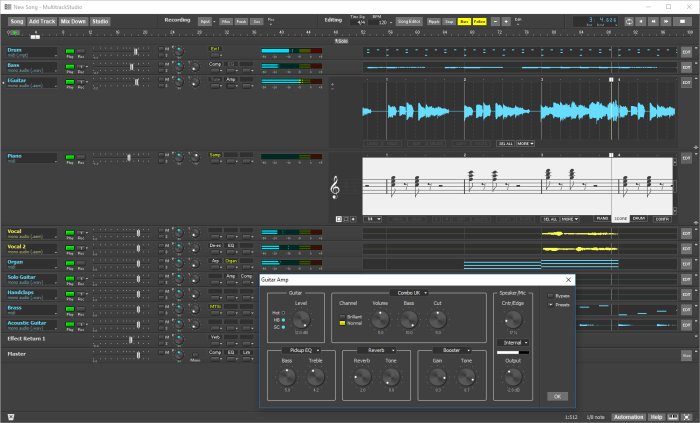 MultitrackStudio is a virtual multitrack studio. You can record and play audio and MIDI tracks, edit them, and mixdown to stereo.

The straightforward and uncluttered user-interface has been designed with tape-based recording in mind. Mixer sections are oriented horizontally (as opposed to the more familiar vertical layout), allowing them to include an editor as well. The editing tools are aimed at correcting mistakes. MIDI tracks have been made to look like audio tracks as much as possible.
Changes in MultitrackStudio v9.7
SysEx support: import from/export to MIDI files, edit and playback. Recording not supported. SysEx messages are sent to External MIDI Instruments and to VST2/VST3/AU instruments/MIDI effects.
MIDI import: XF-style chords are now detected.
Export MIDI Tracks: chords can now be included (they're stored in XF style, but the file isn't a full blown XF file).
Export MIDI Tracks: can optionally export to format 0 file.
MIDI export/import: lyrics can optionally be UTF8 encoded.
Label colors can be changed. The option appears on a label's right-click menu.
Added General MIDI 2, Roland GS en Yamaha XG patchmaps.
Patchmap files can now be imported by dropping them on an External MIDI Instrument window. .ins (Cakewalk instrument definition) files can be dropped too, they'll be converted automatically. On Windows, user patchmaps are now stored in 'C:\Users\Username\AppData\Roaming\MtStudio\Patchmaps\'.
Imported patchmaps can now be deleted: right-click in the menu and choose Delete.
External MIDI Instrument: Patch Selector has 'All' category and search box.
Saving a MIDI track as audio now uses the track's instrument plugin rather than a second instance of it. This avoids loading delays or problems with plugin demo messages etc.
Tuner effect now 'always works', regardless of Rec and/or Soft Monitoring buttons.
"Percussion Channel" button has been removed from External MIDI Instrument windows. Drum kits now appear in the Patch Selector, and the MIDI channel will be updated automatically on selecting a patch.
MIDI Effect selector now has Presets category.
Various (minor) improvements in the Lyrics Prompter and the Chords/Lyrics and Comments editors.
Drum editor: instrument added by user will no longer be removed automatically when it becomes empty.
Fixed: MIDI file import: bank could be incorrect with certain format 0 MIDI files.
Fixed (Mac): very rare exception error on closing alerts or file dialogs (now really fixed.)
MultitrackStudio for Windows and macOS is available for $69 USD (Standard) / $119 USD (Pro). The update is free to owners of MultitrackStudio (purchased after October 28, 2013). Older versions can be upgraded for $23 USD (Standard) / $39 USD (Pro).
More information: Bremmers Audio Design