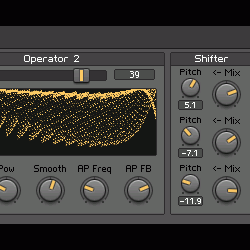 Bronto Scorpio Music has released Dronebox, a free ensemble for Native Instruments Reaktor.
The main inspiration for this ensemble were those awesome demos of modular synths you often find on the internet.

When watching those videos I'm often thinking "Don't ever turn a knob again! That's the best sound ever!" *Guy in the video turns a knob* "Wait! That's even better! Now definitely never turn a knob again!". I tried to capture this feeling with this ensemble.

It comes with a bunch of presets, but it's really meant to be tweeked and explored. The whole thing can be a bit unpredictable, as there is a lot of feedback going on, but that's part of the fun! Many of the controls are somewhat cryptic, but you'll eventually get a feeling for each of them.
Dronebox is a free download. Requires full version of Reaktor 5.8 or higher.
More information: Bronto Scorpio / Dronebox