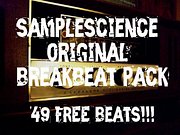 Brown Coffee Recordings has released the SampleScience Original Breakbeat Pack, a free collection of drum loops.
SampleScience writes:
The beats have been created using various softwares drum synths, synthesizers & original recordings of percussive instrumensts. I've started the project a couple of years ago (!), but never had enough time to complete it the way I wanted it to be. So instead of sleeping on my harddrive forever I decided to release the pack for everyone. The wavs can be use in any softwares sequencer & virtual studios that support wav files including FL Studio, Sony Mediasoftware Acid, Reason, Sonar, EnergyXT, Ableton Live, etc…
The SampleScience Breakbeat Pack includes 49 breakbeat loops.
Download the sample pack below.
SampleScience Original Breakbeat Pack (Download size: 21.50 MB)
Check the Loops & Samples page for more free downloads.