Waves Audio has announced it has joined forces with Burl Audio to include Waves SoundGrid technology in the Burl Audio B80 and B16 Mothership.
The Burl Mothership is now Waves SoundGrid-compatible, enabling audio over Ethernet connectivity for Burl Audio's Mothership B80 and B16, offering a high channel count per connection and low latency, by utilizing an ordinary gigabit Ethernet connection.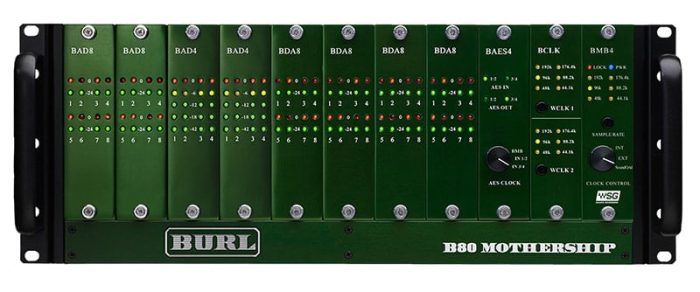 Waves SoundGrid is an Audio-over-Ethernet technology which allows users to stream high counts of digital audio channels (up to 128) and to process that audio through plugins at ultra-low-latency (as low as 0.8 ms), all taking place over a 1Gb network – beneficial for simple project studios, live venues or for complex networked recording and broadcast facilities.
The BMB4 Motherboard for Burl Audio's high-end Mothership series of modular AD/DA convertors effortlessly adds the power of SoundGrid to your system, with up to 64 channels of extremely low-latency audio networking, plugin processing and real-time monitoring with plugins.
With the modular configurability of the Mothership and the flexibility of SoundGrid, the possibilities are limitless. Burl Audio's Mothership series of empty converter chassis represents an innovative way of approaching digital conversion: an all Class-A, discrete analog circuit with proprietary transformers on input, and op amps on output. The result is a flexible system with unparalleled clarity and warmth. Now, with the BMB4 Motherboard for B80 and B16 Motherships, you can add to this system the power of SoundGrid audio networking and plugin processing. Learn more about SoundGrid in the studio.
Mick Olesh, Waves EVP of Sales & Marketing, comments, "We are delighted to offer Waves SoundGrid technology and the use of Waves plugins for Burl Audio's B80 Mothership with BMB4 SoundGrid Network Connectivity, thus augmenting the capabilities of the B80 Mothership and substantially increasing its ability to network easily and efficiently."

Rich Williams, BURL Audio president and Head Designer, comments, "BURL Audio is very excited to offer such an easy and seamless connectivity option for both the B80 and B16 Motherships. With the BMB4 SoundGrid Motherboard, the IO possibilities are limitless."
Burl Audio BMB4 SoundGrid Motherboard features
SoundGrid module for Burl Audio's Mothership B80 and B16 convertors.
Connects your Mothership to SoundGrid for low-latency audio networking and plugin processing.
Mix, play back and record with SoundGrid-compatible plugins in real time.
Up to 64 SoundGrid channels in the Mothership B80 or up to 16 SoundGrid channels in the Mothership B16.
Connect BMB4 directly to your CPU via Ethernet, no PCIe card required.
Supported sample rates: 44.1–96 kHz.
SoundGrid Ethernet port.
2 BNC Word Clock outputs.
1 BNC Word Clock input.
More information: Waves Audio / Burl Audio