Output has launched a promotion on its Substance virtual instrument, offering all three expansion packs for free with a purchase on the powerful bass engine for Kontakt and Kontakt Player.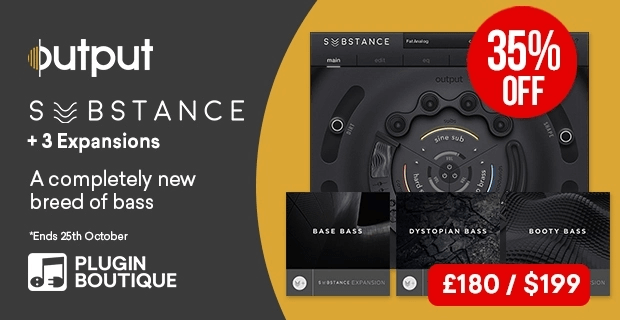 Substance is a deeply produced bass engine combining heavily processed electric and acoustic basses, full live brass sections, huge polysynths, the dirtiest analog synths, insane sound design and much more into single patches. The focus is not realistic emulation, it's about creating new & powerful sounds that push the boundaries of bass.
Substance features
A playable instrument with 300 presets.
Powerful new 3-layer engine.
Preset menu with smart tagging.
Layer FX and global FX.
4 central macro sliders unique to each preset.
Monophonic & Legato modes per layer.
Rhythm page that syncs to tempo.
Advanced arpeggiator.
Complete effects control.
Built-in help menu.
Substance is available for $199 USD and includes Booty Bass, Base Bass, and Dystopian Bass for free until October 26th, 2020. Each expansion includes 100 presets.
More information: Output