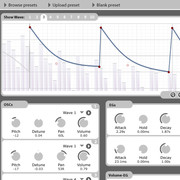 Cableguys has announced the release of a public beta of Curve, a unique software synthesizer for Windows and Mac.
We feel we've created something truly new here. Creating sounds with Curve is intuitive and immediate. The waveform editor is irresistible, and provides completely new possibilities for experimentation and detailed tweaking. Three powerful oscillators, three envelope generators, two filters and four LFOs work together in a sophisticated modulations matrix, all set out in a clear, uncomplicated user interface.

The other half of Curve exists outside the synthesizer. Curve's preset library is a shared online database, populated with your presets and those from other Curve users. This ever-growing, community-driven sound library provides a constant source of inspirational sound, and gives you the opportunity to share, tag and rate sounds quickly and easily across the web.

We also invite the Curve community to steer the future development of the synthesizer. Our bug reports and feature request list will be completely public at all times. We believe this is an essential aspect of Curve, and we're excited about where you're going to take us.
Curve Public Beta 5 is now available to download for Windows and Mac (VST/AU).
Cableguys has also announced a Preset Contest to find the best, most mind-blowing preset sounds for Curve.
Top 100: We're going to pick our top 100 favorite sounds from all the sounds created during the public beta and the previous closed beta testing. We'll look at your ratings, but we're going to be selfish just this once and pick the ones that excite us personally. We're looking for unusual sounds—the ones that push Curve to its limits—but we're also looking for clever, useful sounds and just about anything that sounds amazing. Each top-100 preset wins its creator a EUR 10/USD 14 discount on a Curve license.

Top 1: We'll also pick our absolute favorite preset. Its creator gets Curve for free, and the winning preset will be used as Curve's pre-loaded initial sound.
A free copy of Curve and VolumeShaper 2 is available for anyone who submit more than 10 presets that end up in the top 100.
The contest closes at the end of the beta testing phase.
More information: Cableguys