Cableguys has announced the release of ShaperBox 2, a collection of all-new versions of five powerful Cableguys effects in a single plugin.
Comprising TimeShaper 2, VolumeShaper 6, FilterShaper Core 2, PanShaper 3, and WidthShaper 2, ShaperBox 2 gives you control over filtering, volume, panning, stereo width – even the flow of time. Simply load any Shaper effect and draw the modulation shapes you need with Cableguys' easily editable LFOs – now with three powerful Pens for drawing lines, arcs and S-curves at a stroke. Or, use the new envelope followers in Filter, Pan and WidthShaper that react to beats, basslines, melodies – anything.
Get inspired: turn loops, beats, vocals, melodies and basslines into addictive hooks to kickstart your next track. Explore new curated Preset Packs filled with wild transformations, tension-building FX and studio staples. For mixing, perfect your sound with sample-accurate sidechain ducking, zero-delay feedback filters, stereo expansion, and more. All in multiband.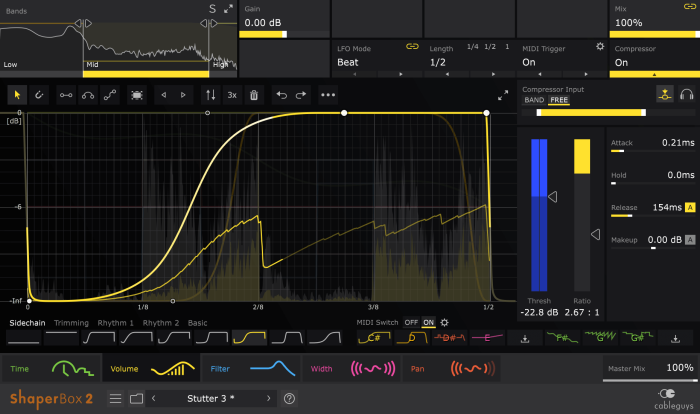 Expand your sound design with new visual compression in VolumeShaper 6, eight lush phaser modes in FilterShaper Core 2, tape/vinyl 'wow' and custom flanger/chorus with TimeShaper 2's Fine Mode, and psychoacoustic Haas panning in PanShaper 3.
Work at the speed of inspiration with ShaperBox 2's 1-click Quick Presets, Retina/HiDPI support, smoother graphics, redesigned interface with larger editing areas, improved editing tools, and many more workflow enhancements.
Changes in ShaperBox 2
Powerful Pens: Designing your dream ShaperBox LFO has never been easier! Grab three powerful, easy-to-grasp Pens and draw crisp lines, smooth arcs and flowing S-curves directly into the LFO waveform editing area. Redraw transients in a click, rapidly build rhythmic patterns, and more. Switch back to classic single-node editing anytime.
Flexible envelope followers: Filter, Pan and Width Shapers can now react automatically to the dynamics of your beats, loops, melodies – anything. Make filters open with each snare hit. Widen synths as they grow louder. Pan percussion dynamically. Use internal filtering to focus the response, and trigger from other tracks using sidechain routing.
Visual compression: With a high-quality, British-inspired compressor now inside VolumeShaper 6, you can dial in perfect punch and multiband control for drums, basslines, vocals and more. Still not perfect? Grab a Pen and refine the gain curve till it is, with the compression shown on the same large graph as your volume edits.
Pumped-up filters: Use 3 filters at once with multiband mode now in FilterShaper Core 2. Dive in deep with 8 lush Phaser modes, with up to 8 peaks/notches. And experience even more fluid, analogue-like response with zero-delay feedback (ZDF) designs for all resonant filters, and internal saturation and resonance compensation for Clean filters.
Mighty Fine Mode: Manipulate time on a microscopic level with TimeShaper 2's new Fine Mode. Choose from 3 range settings: 2.5, 10 and 20ms. Create vintage vinyl pitch wobbles and subtle retro tape flutter. Mix in the dry signal to create huge flanger swooshes and crisp chorus effects.
The Haas effect: Blend regular and Haas panning right inside PanShaper 3. Using ultra-short delays, Haas panning creates a rich illusion of stereo placement while maintaining a full sound in both speakers. Create the perfect stereo balance – or go extreme for pitchbending Doppler effects.
Quick Presets: Work faster than ever with 1-click Quick Presets right on ShaperBox 2's startup screen, giving instant access to production essentials like mono bass and sidechain ducking. Just add ShaperBox, click and create.
Packs of Inspiration: Want that perfect creative stutter? Need a pro compressor setup for your drum bus? Scratches or tape-stops for a fill? There's a Pack for that! From Compression Toolbox and Sidechain City's essential studio settings, to the wild sound-warps of Instant Remix and Simple Stutter, each Pack is a curated collection of the very best presets for that task.
Redesigned interface with larger editing areas.
Retina/HiDPI support for crisper, clearer graphics.
Clearer oscilloscope waveforms.
Magnitude mode for easy Envelope Follower setup.
Smoother, more accurate spectrum view.
Dedicated selection tool for multi-node editing.
2x button – double up patterns with a click.
Trigger Smoothing to reduce clicks when MIDI Triggering.
Increased band-split range, now from 20Hz-20kHz.
External sidechaining and internal filters for Envelope Followers.
Envelope Follower Threshold – exclude quiet signals from triggering the envelope.
Depth x2/x4/x8 for Envelope, to amplify modulation strength.
Steep 24dB multiband crossovers join the classic 6 and 12dB models, for even greater precision..
Output Gain control in VolumeShaper 6 – ideal for transient boosting.
The ShaperBox 2 Bundle is available now for 89 EUR / $99 USD from Plugin Boutique. Individual Shapers are starting from 19 EUR / $24 USD. Users of previous versions can upgrades from 10 EUR / $11 USD. The plugins support VST and AU formats for Windows and Mac.
More information: Cableguys