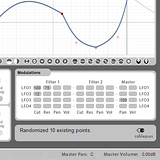 Cableguys has released updated versions of FilterShaper, VolumeShaper, and PanCake, three effect plug-ins for Windows and Mac.
We fixed two bugs and addressed some complaints that Computer Music had in their recent review of FilterShaper 2.
Changes in FilterShaper v2.0.3 / VolumeShaper v2.0.1 / PanCake v1.0.3
Fixed: On Sonar (Win) the waveform area was sometimes not shown correctly.
Fixed: On Nuendo (Mac) the plug-ins could not be closed.
Improved: For all plugins, a new button to change the displayed grid of the waveform has been added.
Improved: FilterShaper's LFOs have been labeled numerically.
FilterShaper is available to purchase as a VST effect plug-in for PC and Mac, priced at 49 EUR / $69 USD, while VolumeShaper costs 15 EUR / $20 USD. PanCake is available to download as freeware.
More information: CableGuys