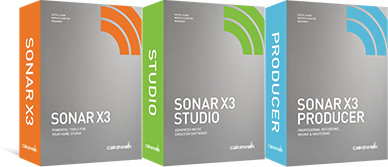 Cakewalk has announced its upcoming free SONAR X3e update, which will be available later this month.
Suitable for all three versions of the SONAR family (X3, X3 Studio, and X3 Producer), this update continues to focus on direct "wish list" feedback from Cakewalk customers.
SONAR X3e is the fifth free update since the X3 launch in September 2013, and features nearly 100 enhancements including improvements to the audio engine, loop recording, ARA (Audio Random Access), comping, and much more. SONAR X3e once again reinforces Cakewalk's commitment to supporting the ever-growing number of users who have embraced SONAR X3's superior workflow, functionality, and exceptional versatility.

"The continuing success of SONAR X3 is the result of what has essentially become a partnership with our user base. Their suggestions for enhancements have not only provided detailed, intelligent feedback, but inspired us to continue building on SONAR X3's stability and functionality" said Cakewalk Product Manager Bill Jackson. "We are happy to release such a comprehensive list of enhancements to our loyal user base."

The SONAR X3 family comprises SONAR X3 ($99), which delivers extraordinary value; SONAR X3 Studio ($199), targeted to advanced home and project studios; and SONAR X3 Producer ($499), designed to meet the demands of professionals who require a program with the versatility to handle any kind of project.