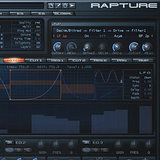 Cakewalk has announced version 1.2 of Rapture, a wavetable synthesizer plug-in for Windows and Mac.
Combining power, elegance, control, and unbeatable sounds, Rapture is one of the most exciting synthesizers to hit the market in years. Capable of producing rich, hypnotic, and rhythmic basses, leads, and pads, Rapture is perfect for performing and designing the modern synthesized sounds igniting today's pop, dance, and electronic music.
Changes in Rapture v1.2
New Envelope Generator functionality including the ability to retrigger envelopes using the Step Generator, Saving and Loading EG presets, Drag and Drop EG presets, an alternate Zoom mode, and auto-scroll when programming, a useful feature when working with extended or zoomed in waveforms.
New Internal Tempo option, with a built-in Tap Tempo—use this option to create syncopated rhythmic effects when using Rapture in a host DAW, or use it in stand-alone mode to ensure that Rapture's tempo-based effects and modulations are in time with the music you are performing.
DC offset blocker to remove unwanted DC offset distortion that can occur when loading some waveforms.
Extended Vista x64 support including the ability for both the 64-bit and 32-bit versions of Rapture to be installed on the Windows Vista x64 operating system ensuring access within 32-bit DAWs that may be running on the 64-bit OS.
Selectors added to multiple parameters for quicker access to desired settings.
Knobs Focus Indicator to help the user identify which knob is currently in focus.
More.
Rapture 1.2 will be available as a free update to registered Rapture customers late April, 2009.
Visit Cakewalk for more information.