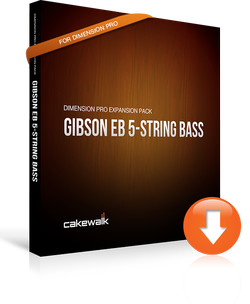 Cakewalk has announced the release of Gibson EB 5-String Bass, a new expansion pack for the Dimension Pro virtual instrument for Windows and Mac.
This one-of-a-kind expansion pack provides eight accurate bass instruments, painstakingly sampled in 24-bit resolution by Craig Anderton from a pristine example of Gibson's EB 5-String Bass.

Thanks to Gibson's unique Tuned Coil Tap pickup technology, the EB 5-String provides eight distinct sounds that form the basis of a group of eight "Pure" sampled instruments. Each note for each sound was sampled individually, allowed to sustain (no looping), then trimmed judiciously for the optimum tradeoff between sustain and reasonable instrument size. All instruments also include ten slides and one FX sound, while the mod wheel emulates pulling back the EB's tone control. Eight additional "Growl" programs add a gritty overdrive to the eight pure sounds, for a total of 16 programs.

Cakewalk Marketing Director, Andrew Rossa, states, "the Gibson EB 5-String Bass Expansion Pack showcases the musicality, realism, and technical excellence you'd expect from Craig Anderton—and then some, given the EB's exceptional sound quality. These sounds are a 'must-have' for any Dimension Pro owner who wants to incorporate the finest electric bass sounds possible into their productions."
The Gibson EB 5-String Bass Expansion Pack costs $39.95 USD. Until February 28th, 2014, it is available for an introductory price of $19.95 USD as part of Cakewalk's "Bass Month".
More information: Cakewalk