Cakewalk has announced the availability of its new SONAR line of digital audio workstation products.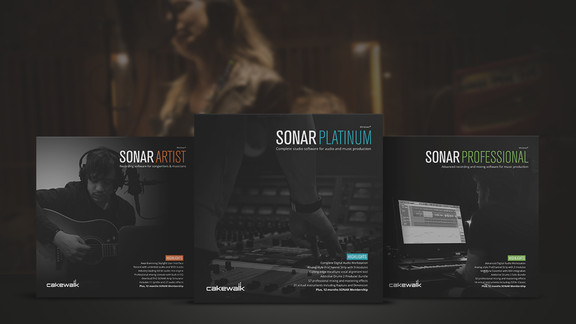 There will be no more SONAR "version numbers"; the software at the time of purchase is always the latest version, thanks to Cakewalk's new Membership model, which is included for 12 months upon purchase. Now updates including a mix of new program features, original content, tutorials, new presets, and more roll out approximately once a month to members. Members will have the option to choose either the traditional upfront payment, or make convenient monthly payments. After 12 months anything acquired during the Membership is fully authorized and never expires—regardless of whether Membership is renewed.

New users receive 12 months of Membership free, while for current SONAR users, Membership renewal—which is priced similarly to a traditional lower priced product upgrade—gives new updates every month instead of yearly.

The three new versions of SONAR are differentiated to focus on specific recording needs. All three offer the same core features—Touch control, unlimited tracks/FX/Sends/Busses, VST3/VST2/DirectX compatibility, video track, support for high-resolution audio via DSD compatibility and sample rates to 384 kHz, enhanced MIDI editing, Mix Recall for switching quickly among different mix options, advanced publishing options, innovative "one-stop solution" effects chains, amp simulations, advanced comping, and much more—while the award-winning Skylight User Interface contributes inspiring and efficient workflow.
New SONAR features
SONAR Artist ($99 USD), the most feature-packed recording software in its price range, adds to the sophisticated core feature set with 19 bundled effects and 11 virtual instruments that focus on music creation and songwriting.
SONAR Professional ($199 USD) folds in the analog-style, expandable ProChannel Console Strip that allows creating/customizing virtual console architectures, as well as Melodyne Essential pitch correction with ARA integration, and Addictive Drums 2 Solo Edition—50 effects and 18 virtual instruments in total, including the vintage sound of Blue Tubes effects, convolution reverb, and the surgical precision of linear phase EQ and dynamics. Its performance exceeds many of the "flagship" programs from other companies.
SONAR Platinum ($499 USD) features a spectacular array of tools, plug-in effects, and instruments to offer extreme flexibility to pros who need to handle any kind of recording or mixing production. With advanced tools like Console and Tape emulation, VocalSync for tightening vocals or matching dialog to picture, 21 virtual instruments, 57 effects for mixing and mastering (from vintage to cutting-edge), convolution reverb, step sequencer, and improved audio quantization/stretching, Platinum provides power tools that complement the superior workflow.
SONAR is available for purchase Windows 7/8. Registered Cakewalk customers can download their SONAR upgrades directly from the Cakewalk Store or select music retailers.
More information: Cakewalk