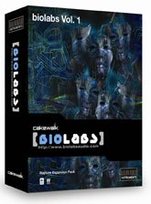 Cakewalk has released two new expansion packs: Biolabs Volume 1 (Rapture) and Digital Sound Factory Volume 1 (Dimension).
Biolabs Volume 1 is a new Rapture Expansion Pack containing 250 programs skillfully programmed by Biomechanoid. The Expansion Pack includes a 230 MB sample library hand selected by BiolabsAudio for use with Rapture's sfz Expression Engine.
Biolabs Volume 1 features
Pads

: a large set of evolving pads useful for a wide range of styles and situations

Atmospheres

: useful for underlying elements, atmospheres, textures, excellent for providing background ambience to any track
Instruments: a set of acoustic instrument emulations that expose harmonics, timbres, and fx that have never been heard

Bass

: deep and dark bass sounds

Leads & Synth

: a selection of leads and solo sounds that break sonic barriers

SFX

: a diverse spectrum of unusual sound effects useful for intros, outros, and other transitions

Rhythmics

: a set focused on hyperactive sequences, containing tempo synced elements and effects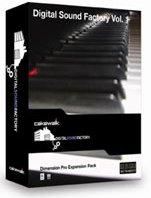 Digital Sound Factory Volume 1 is a new Dimension Pro Expansion Pack that highlights a completely new Grand Piano. The new expansion pack includes over 200 new presets expertly programmed by sound designer Timothy Swartz. This set packs 520MB of new content professionally recorded and engineered from a finely crafted Yamaha Conservatory Grand Piano. Multiple velocities of pedal up, pedal down, and key up were recorded to preserve the acoustic harmonic content, resulting in unmatched realism and playability.
Digital Sound Factory Volume 1 features
Recorded with

Audio-Technica 4060

microphones into

Universal Audio 2-610

tube preamplifiers
High quality analog to digital signal processors were used to convert the sound into 32 bit, 96 kilohertz digital format
Using the power of the

sfz format

, parameters such as footswitch (CC64) will switch between pedal up and pedal down layers, and note off triggers switch to the actual sound of the piano's key release
The library includes

ten different banks of sounds

: Grand Piano, Electric Pianos, Guitars, Layers, Orchestral, Organs, Pads, Splits, Synth Basses, and Synths
Both Expansion Packs cost $59 each (download).
Visit Cakewalk for more information and audio demos.