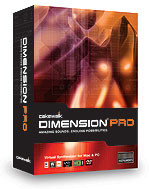 Cakewalk has released a hot fix for version 1.2 of Dimension Pro, the critically-acclaimed synthesizer that combines real instruments with advanced synthesis, giving you endless sound possibilities.
This hotfix is only available to registered users of Dimension Pro, it addresses specific issues when using the instrument at higher sample rates such as 96kHz and 192kHz. It is only reccomended that you install this hotfix if your experiencing issues using Dimension Pro at 96kHz or 192kHz.
Please note that a release date and information for an official release is currently unavailable. This download includes the .DLL files for both the 32 and 64-bit versions on the Windows operating system. There is no Documentation, ReadMe or updated help contents for this download.
Registered Dimension Pro users can download the hot fix free of charge.
Visit Cakewalk for more information.