Cakewalk has released SONAR 7 Producer Edition and SONAR 7 Studio Edition.
SONAR 7 Producer Edition places no limits on your track count, bus routing, effect or instrument inserts, and includes an ample array of audio effects, virtual instruments, and innovative technologies to power your productions.

These include the precision LP-64 EQ™ & LP-64 Multiband™ linear phase mastering plug-ins, Z3TA+™ Waveshaping Synthesizer, Dimension™ LE and Rapture™ LE, Active Controller Technology™, AudioSnap™, and much more.

These are complemented by two Roland® virtual instruments and the V-Vocal™ processor, the Lexicon Pantheon Reverb, Perfect Space Convolution Reverb powered by Voxengo, VC-64 Vintage Channel™ powered by Kjaerhus Audio, AudioSnap™ rendering with iZotope Radius, POW-r dithering, thousands of instrument sounds, over a gigabyte of sample content, and much more.
Key new features in SONAR 7 Producer Edition
Integrated Step Sequencer view—the most innovative step sequencer feature set available in any DAW
Smart MIDI Tools—intuitively use one tool for multiple editing tasks; completely customizable
Real-time Drag-Quantize allows selected notes and events to be quickly aligned with snap settings
Multilane controller editing in Piano Roll view; controller data can be moved/copied across lanes; multiple controls can be viewed/edited per lane to economize screen real estate
MIDI display features including MIDI Magnifier, MIDI Meters, and Velocity Colorizer
Enhanced MIDI editing with functions for splitting, gluing, and muting notes
New ACT (Active Controller Technology) presets for Akai MPK49, Korg padKONTROL, and Line6 TonePort KB37
New instruments: Z3TA+ 1.5 waveshaping synthesizer, Dimension LE (featuring Garritan Pocket Orchestra), Rapture LE, and DropZone Sample player/synth; Over 1000 instruments sounds
Roland V-Vocal 1.5, now with Pitch to MIDI conversion
LP-64 Multiband linear phase mastering compressor/limiter with AutoQ functionality
LP-64 EQ linear phase mastering EQ with 20-point control curve
Internal sidechaining for Sonitus:fx Compressor, Sonitus:fx Gate, VC-64 Vintage Channel, and 3rd party VST plug-ins with sidechain (multi-input) capability
External Insert Plug-in lets you insert and mix with external hardware effects and instruments with automatic delay compensation
Boost 11 Peak Limiter
Dim Solo keeps tracks in context by reducing volume of unsoloed tracks by 6, 12, or 18 dB instead of muting
Drag & drop EQ settings across channels in the console view
Shortcuts for assigning a series of audio inputs, and routing selected tracks/busses to the same input/output/main
Rename Synths in Synth Rack
Original SMPTE time stamps now stored with clips with easy revert to original time stamp
Right-click at cursor to Import audio/MIDI data
Wave-64 support provides capabilities to record large scale (2 GB+) projects
High bandwidth multi-track recording optimizations
New file format import/export options including Sony Wave-64, AIF, CAF, FLAC, Sound Designer II
File Recovery mode
Integrated Audio CD ripping and burning
Cakewalk Publisher 2.0 for uploading and presenting music online
SONAR 7 Studio Edition offers the best creative tools, and the most power of any digital audio workstation in its price range. Built upon the same core feature set as SONAR 7 Producer Edition, SONAR 7 Studio Edition gives users the edge in their productions—from recording audio and MIDI, composing with virtual instruments, remixing with loops, mixing with professional effects, to delivery of a polished final track—with the recognized best audio quality of the industry.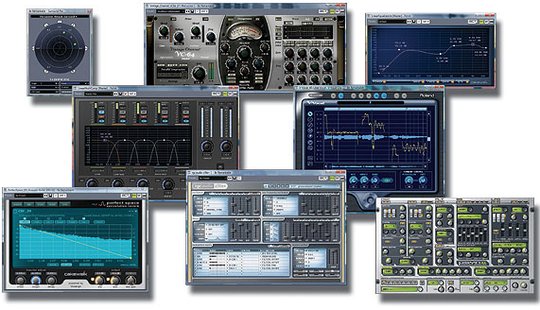 The following features are exclusive to SONAR 7 Producer Edition:
NEW— LP-64 EQ™ linear phase mastering EQ
NEW— LP-64 Multiband™ linear phase mastering compressor/limiter
NEW— Z3TA+™ waveshaping synthesizer
NEW— VC-64 Vintage Channel™ with sidechaining capabilities
NEW— Roland V-Vocal™ 1.5 with Pitch to MIDI conversion
AudioSnap™ multitrack audio quantize
Surround mixing in over 30 formats
SurroundBridge™ technology to use stereo FX in surround
Sonitus Surround Compressor
POW-r dithering
PSYN™ II subtractive synthesizer
Pentagon™ I Analog Modeling Synth
RXP™ groove instrument with REX file support
Perfect Space™ Convolution Reverb
Lexicon® Pantheon™ Reverb
SONAR 7 Producer Edition has an MSRP of $619 ($499 street) U.S., SONAR 7 Studio Edition (MSRP) is $369 U.S. ($299 street) and both are now shipping.
More information: Cakewalk