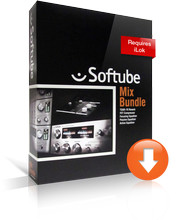 Cakewalk has announced availability of the critically acclaimed Softube Mix Bundle in SONAR X1 Producer Expanded module format.
The Softube Mix Bundle is a collection of five essential tools that give you full control over the key elements of building any mix—compression, equalization, and reverb. Now SONAR X1 Producer Expanded users can add these expertly crafted plug-ins to their arsenal of ProChannel modules.

The Softube Mix Bundle includes both ProChannel Modules for use in 32-bit & 64-bit versions of SONAR X1 Producer Expanded and VST format for use in SONAR X1 Producer, Studio, and Essential as well, as with other VST host applications.
Softube Mix Bundle features
TSAR-1R Reverb

is based on a powerful, proprietary modern reverb algorithm. It is a vibrant, natural sounding reverb fashioned with an exceptionally accessible interface—three knobs give you fast, immediate control over a wide range of ambient spaces.

Passive Equalizer

is based on a famous German 60s era, three-band passive console equalizer that features wide bandwidth and unsurpassed clear and open sound.

Active Equalizer

is modern active design based on Swiss hardware from the 70s. Three bands of EQ, each with selectable gain, frequency, and bandwidth, plus 18dB/Oct high and low cut filters, providing tight and focused sound.

Focusing Equalizer

employs Softube's untraditional take on equalizers, with the low, mid, and high bands moving automatically and musically in relation to the high and low cut filters. Also includes filters from the Passive and Active Equalizers, all with one-knob saturation control.

FET Compressor

is a fresh spin on a classic, complete with parallel compression, detector filters, look-ahead function, and external sidechain.
For a Limited time through January 31, 2012, all Cakewalk product customers (*SONAR X1 Producer Expanded necessary for use of ProChannel Module versions), can save 40% off the regular price and download the Softube Mix bundle for $179/€149/£125 (vat inclusive) from the Cakewalk store. Starting February 2012 the Softube Mix Bundle including ProChannel Module and VST versions will be available at retail from authorized Softube dealers.
More information: Cakewalk