Cakewalk has released version 1.1 of its Z3TA+ iOS synthesizer app, which features significant MIDI and performance enhancements while maintaining the Z3TA+'s classic sound.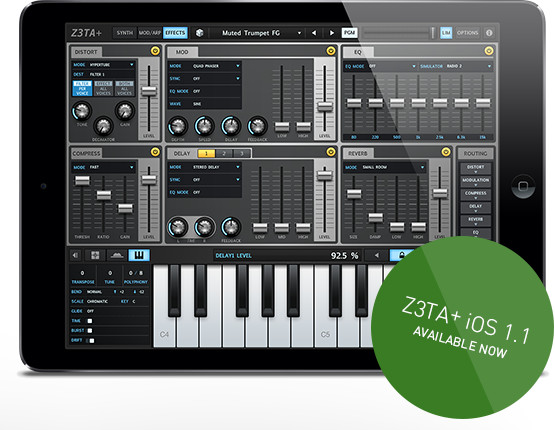 The legendary Z3TA+ synthesizer has been used on countless records, and it's distinctive sound has been a staple of electronic artists the world over. Now Z3TA+ iOS puts the full power of Z3TA+ on your iPad. Packed with hundreds of presets, real-time oscillator modulation, dual mode filtering, and flexible effects. Z3TA+ iOS is the perfect creative toolkit for making music anywhere, anytime.
Changes in Z3TA+ iOS v1.1
For greater expressiveness, a simple yet powerful MIDI Learn mode offers multiple continuous controller assignments or multiple continuous controllers per assignment.
MIDI Learn save, load, and clear configuration functions.
Improved MIDI Channel selection (Omni as well as channels 1-16).
Multiple MIDI input selection.
Clock Sync for tight rhythmic integration with other instruments and systems.
MIDI input indicator lights for visual feedback.
Manual localization in French, German, and Japanese.
Onboard X/Y Pad integration with more factory presets.
Z3TA+ for iOS is available for $19.99 USD. The update is a free download from the App Store for existing customers.
More information: Cakewalk