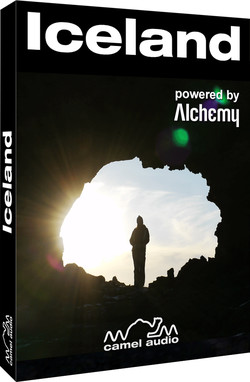 Camel Audio has announced Iceland, a new sound library for its Alchemy sample manipulation synthesizer for Windows and Mac.
Inspired by the beautiful and otherworldly landscapes of Iceland, this evocative library contains 150 expertly crafted presets by sound designers biomechanoid and Deru, and utilises 550MB of exclusive sample content recorded around Iceland, including streams, glaciers, caves and an Icelandic girls' choir.

The presets come with 8 Remix Pad variations each, and lend themselves perfectly to the more atmospheric and experimental side of composition across a wide range of genres.
Iceland features
150 sounds by biomechanoid and Deru (1200 variations).
Includes 27 synths, 23 soundscapes, 20 pads, 19 drums, 12 sound effects, 12 vocals, 11 rhythmic, 10 basses, 7 keys, 4 mallets, 3 woodwinds, 2 organs.
Suitable for experimental, soundtrack, ambient, electronic, soundscape, techno.
Iceland for Alchemy and Alchemy Player costs $59 USD/49 EUR/£39 GBP.
A mobile version of Iceland (containing 50 presets) is also available as an in-app purchase from the Alchemy Mobile iOS app, priced at $4.99 USD/4.49 EUR/£2.99 GBP.
Visit Camel Audio for more information.