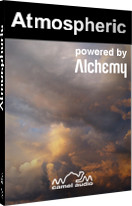 Camel Audio has announced the Alchemy Mobile version of Atmospheric, one of their most popular desktop Sound Libraries for Alchemy.
Atmospheric's versatile sounds range from beautiful, haunting pads and strings, to dark soundscapes and effects – making it ideal for film scores, ambient, and electronica.

Atmospheric also includes 4 remix-ready demo tracks, and is now available as an in-app purchase for just 4.99 USD / 3.99 EUR / 2.99 GBP.
Visit Camel Audio for more information.