Camel Audio has announced the release of BigTone Alchemy, a new collection of patches for Alchemy by BigTone.
BigTone is a collection of 150 immaculately programmed pads, playable arps and warm synth sounds for Alchemy, which is suitable for a wide range of genres including trance, ambient and electronica.

The set was created by respected sound designer BigTone, and comes with a library of over 100MB of his specially created samples. Each preset has fully programmed perform assignments which make them fun and easy to tweak, and comes with 8 remix pad variations for a total of 1200 sounds.
BigTone Alchemy features
Sound Types: 42 Synths, 24 Arps, 23 Pads, 22 Loops, 15 Basses, 9 Leads, 7 Sound Effects, 5 Soundscapes, 3 Keys
Sound Designer: BigTone
Genres: Ambient, Dance/Trance, Electronica, IDM, Techno/Electro, …
Download Size: 107 MB
BigTone Alchemy is available as a download for $59 USD.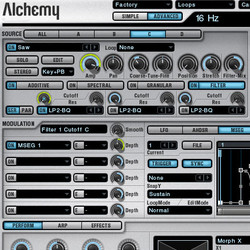 Camel Audio has also updated Alchemy to version 1.11, including many new features and bug fixes, and providing Windows 7 and Snow Leopard compatibility.
The new version offers Cameleon 5000 preset import, new formant filters for the additive and spectral sections, much enhanced spectral synthesis quality, new additive editor features, punchier unison VA attacks and numerous other improvements.

Alchemy is now able to import and export additive and spectral data to CSV files. These files can be read and written by spreadsheets or third party utilities. Aladdin by Paul Nauert is now available from the User Library and is the first such utility and offers the ability to generate anything from plucked sounds to wave sequences using techniques such as cellular automata, random walks and FM.
Changes in Alchemy v1.11
Cameleon 5000 preset import.
New formant filter for additive and spectral engines, accessed via Amp knobs.
Much enhanced spectral synthesis quality when pitching sounds up and down.
Improved additive editor modes including dark and bright partial editing.
Can now edit multiple breakpoints at once in the additive editor.
CSV file import and export for additive and spectral engines.
AAZ file import and export for additive and spectral engines.
In VA mode PVar values less than 100% now set all oscillators to given value.
Much more responsive MSEG and additive editors on Windows.
Zoom position of all editors now anchored to current scroll bar location.
MIDI learn and automation read / write for individual source edit controls.
SFZ files listed at the top of the import browser list for easier selection.
Swap Snapshot command added to Perform section file menu.
Spectral editor loop indicators are displayed using a different colour.
New indicator to show that second level modulation depths are being edited.
Additive oscillator count updates when higher partials are created in editor.
Displays message when attempting to load presets created in more recent version.
MIDI Unlearn All is now displayed on the main file menu.
Easier to skin – skin folder tidied up.
Fixed Move Up / Move Down reordering of effects in FX section.
Fixed double clicking of FX section and spectral editor scroll bars.
Fixed closing and re-opening the GUI locating the wrong preset in the Alchemy folder structure when two presets have the same name.
Fixed missing import path variable in config file causing file browser crash.
Fixed Alchemy save dialog boxes to display in front of host.
Fixed click when modulating additive mode symmetry across zero point.
Fixed effects disappearing when clicking on scroll bar.
Fixed saving of presets while a project is being loaded.
Fixed bank and category to set the current folder on File -> Clear.
Fixed Copy & Paste of modulation source to include modulation depth.
Fixed additive editor to allow dragging of last breakpoint.
Fixed blank references to missing sample files in a cleared patch.
Fixed host reserved MIDI CC values in MIDI learn mode.
Fixed termination of additive data when all breakpoints deleted.
Fixed 'Auto-Assign Empty' to no longer create variations of remix pads.
Fixed Invert Knob causing the sound to change under certain conditions.
Fixed Perform Clear causing some presets to sound different.
Fixed click in output when modulating the number of oscillators.
Fixed update of source GUI controls when receiving automation values.
Fixed foreign language characters causing crash or folder display to fail.
Fixed menu display for snapshot volume and removed modulation.
Fixed memory leaks in file sub-menu selector.
Fixed current preset folder when re-opening the GUI after clearing a preset.
Fixed PVar modulation in VA mode.
Fixed display of modulation depth ring image after reset.
Fixed loop syncing between sources when modulating position control.
Fixed randomise menu commands crashing new instances of Alchemy.
Fixed rare crash when importing a PNG file to the spectral editor.
Fixed additive editor not displaying partials after importing a sound.
Fixed Morph-XY mode when morphing between different synthesis types.
Fixed spectral rendering after import from source menu.
Fixed 96 KHz project sample rate when rendering spectral sources.
Fixed handling of missing data files.
Fixed automation data not sent to host for learned MIDI controls.
Fixed looping not working correctly when morphing in some circumstances.
Fixed incorrect message after canceling Save Consolidated.
Fixed rare crash when re-opening GUI after loading a preset after Clear.
Fixed source labeling after PNG file import.
Fixed scaling of the spectral high-pass filter.
Fixed save consolidated creating AAZ files for inactive sources.
Fixed EQ effect buffer clear causing click at note on.
Fixed rare crash importing SFZ that fails to specify 'keycenter' on Mac.
Fixed Automap / Kore perform controls not updating in AU version.
Fixed alt-click circular knob mode for GUI controls on Win.
Default installation path on Windows Vista and Windows 7 is now "My Documents/Vstplugins" to avoid permissions problems.
Alchemy version 1.11 is now available for download for registered users.
Visit Camel Audio for more information.