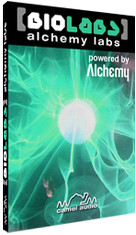 Camel Audio has announced the release of Biolabs: Alchemy Labs and Junkie XL: Future Oldskool, two new soundbanks for Alchemy.
Biolabs: Alchemy Labs covers a huge range of sonic ground from genetically enhanced synths to mutant machines, tapping directly into the subconscious with cyber-organic hybrids and neural circuitry. An ambitious project from the fertile imagination of sound designer biomechanoid (aka Colin Fraser), its appeal straddles multiple genres such as ambient, electronica, film, glitch, and IDM. A full year in the making, this soundbank includes a 700MB specially created sample library and exclusive skin.

Biomechanoid is a respected sound designer; well known for his Absynth sounds and creator of the Absynth Twighlights Kore Soundpack. He has designed sounds for various games and Hollywood movies including US box office #1 Crank.
Biolabs: Alchemy Labs features
Number of Sounds: 150 (1200 variations)
Sound Categories: 34 Soundscapes, 20 Sound Effects,18 Pads, 16 Basses, 15 Loops, 12 Arps, 9 Drums, 8 Synths, 7 Vocals, 5 Leads, 4 Keys, 3 Guitars
Genres: Electronica, IDM, Ambient, Film Music, Techno/Electro, Dance/Trance
Download Size: 385 MB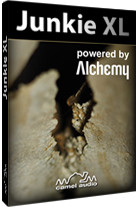 Junkie XL: Future Oldskool is not a collection for the faint-hearted. From cone-shaking sub-basses to searing leads, journeying through animated loops, tortured guitars and unnerving sound effects, all the way to delicate breathy pads, rich strings, and dark angelic soundscapes, these are not sounds to play to your granny. However, if you want your music to have elemental power, rich squelchy filters, phat bottom end, and uplifting sounds that can bring tears to your eyes, look no further. The specially created sample library content incorporates classic oldskool synths, haunting vocals, shiny and glistening pads, captured wavetables, along with scary basses and underground shivers.
Junkie XL is a talented producer and remixer. His 'Radio JXL' album featured collaborations with Depeche Mode's Dave Gahan, Gary Numan, Robert Smith from The Cure and Public Enemy's Chuck D. The album also included a remix of Elvis Presley's 'A Little Less Conversation', which became a #1 hit in more than twenty countries. He has also remixed tracks by Bloc Party, Coldplay, Britney Spears, Avril Lavigne, Scissor Sisters and Justin Timberlake.
Junkie XL: Future Oldskool features
Number of Sounds: 150 (1200 variations)
Sound Categories: 34 Synths, 27 Basses, 25 Loops, 20 Pads, 17 Soundscapes, 15 Leads, 8 Vocals, 4 Sound Effects
Genres: Dance/Trance, Electronica, House, Ambient, Techno/Electro, IDM
Download Size: 74 MB
Biolabs: Alchemy Labs and Junkie XL: Future Oldskool are available to purchase for $59 USD each.
Visit Camel Audio for more information.