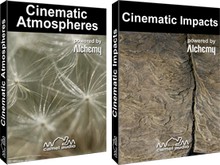 Camel Audio has announced the release of Cinematic Atmospheres and Cinematic Impacts, two new sound libraries for Alchemy and Alchemy Player.
Cinematic Atmospheres will help you set the scene perfectly, from tears of joy to an appointment with fear. Capturing the drama of a frozen moment, or telling a story through the passage of time, it offers a palette of warm, relaxing washes, delicate soundscapes, through uplifting dramatic surges, to atmospheres of bleak isolation and layers so dark and tense you could cut them with a knife. Featuring soundscapes, pads, sound effects, cinematic string textures, loops and vocal performances, and 120MB of new samples such as digital pads, dark drones, treated guitar, creepy waterphone loops, bowed cymbals, plus atmospheric special effects.

Cinematic Impacts is the perfect high-energy companion when writing your action-packed blockbuster movie or game. It's packed with dramatic stings, bowel-loosening impacts, massive hits and crashes, slowly-building surges, swirling transitions and reverses, and vertigo-inducing falls and ricochets. There are sounds here to make you shiver and make you smile, and these mostly one-shot hits and percussive sound effects can also be used to create evolving soundscapes, rhythmic beds and edgy riffs that will have you on the edge of your seat. Cinematic Impacts also includes 130MB of new sample content, including massive drum hits and loops, mega impacts, dramatic rises and whooshes, plus large bell and gong strikes, spooky drones, and electronic shivers.
Cinematic Atmospheres and Impacts features
75 (600 Variations) sounds each:

Cinematic Atmospheres: 38 Soundscapes, 16 Pads, 9 Sound Effects, 6 Strings, 3 Vocals, 3 Loops.
Cinematic Impacts: 67 Sound Effects (25 Hits, 17 Transitions, 25 Other), 8 Drums.

Alchemy Player included; allows you to easily tweak the sounds to fit your music, using the perform controls and remix pad.
As an additional bonus, if you buy both libraries then you'll get an extra 30 presets.
The Cinematic Atmospheres and Impacts libraries are available to purchase for $35 USD / 29 EUR / £25 GBP each. A bundle of both is $59 USD / 49 EUR / £39 GBP (includes 30 extra presets).
Visit Camel Audio for more information.