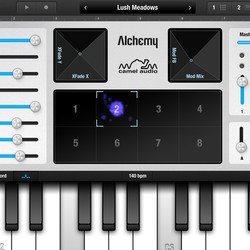 Camel Audio has updated its Alchemy Mobile virtual synthesizer app for iOS to version 2.0.18.
Alchemy Mobile v2 is the latest update to Camel Audio's popular iOS sample manipulation synthesiser for your iPhone/iPad.

The 2.0.18 update provides support for the general pasteboard so you can easily paste audio into Garageband and other non-ACP apps. Also included are a new manual to help you get the most from all its features both old and new, as well as additional improvements.
Changes in Alchemy Mobile v2.0.18
Copy/Paste to Garageband and other non-ACP apps.
New Manual makes learning easy – see Extra->Help.
New 'Himalaya: Vintage' Sound Library available – authentic classic synths.
Improved handling of looped audio.
Improved background rendering.Various other improvements and fixes.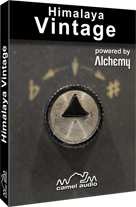 Camel Audio has also announced Himalaya: Vintage for Alchemy Mobile.
It offers an authentic vintage vibe and playability with squelchy basses, rich multi-layered pads, cutting synths and shimmering strings. Classic synths include the Mellotron, Solina and Oberheim.

It's out now as an in-app purchase for just 4.99 USD / 3.99 EUR / 2.99 GBP.
Alchemy Mobile Free is available to download for iPhone/iPad from the iTunes app store. Alchemy Mobile Pro Upgrade is available as an in-app purchase for $14.99 USD / 11.99 EUR / £10.49 GBP.
Visit Camel Audio for more information.