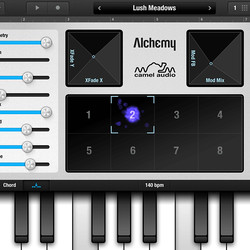 Camel Audio has released version 2.2.5 of Alchemy Mobile and Alchemy Mobile Pro, a free upgrade containing numerous improvements and brand new features for both Alchemy Mobile and Alchemy Mobile Pro users.
Alchemy is perfect whether you're developing song ideas on the go or in the studio. Discover an almost limitless palette of musical instruments using the unique remix pad to create constantly evolving and expressive sounds. Play fat basses, evocative soundscapes and pulsing arpeggios thanks to the most powerful synthesis engine on iOS. This is the mobile version of Camel Audio's award-winning Alchemy synth which can be heard on thousands of records by world-class musicians.
Changes in Alchemy Mobile
Dropbox Import – Import songs and MIDI files directly from Dropbox.
Inter-App Audio transport controls – navigate between audio apps while using Alchemy Mobile.
Improved menu layout.
Numerous other improvements to stability.
Additional new features exclusive to Alchemy Mobile Pro users:

MIDI learn – assign MIDI control to parameters in Alchemy Mobile from either hardware or other audio apps.
Dropbox Export – Export tracks and MIDI files directly to Dropbox.
Camel Audio has also introduced two new Sound Library bundle options, with the All Sounds Pack and the All Sounds Pro Pack.
Sound Library bundles
The All Sounds Pack contains all the Alchemy Mobile Sound Libraries in one package, at a substantially discounted price of 39.99 USD / 35,99 EUR / 27.99 GBP.
The All Sounds Pro Pack contains all the Mobile Sound Libraries and also the Alchemy Mobile Pro Upgrade for 49.99 USD / 44,99 EUR / 34.99 GBP.
The Alchemy Mobile v2.2.5 update is available now as a free download from the App Store.
Visit Camel Audio for more information.