Camel Audio has released version 2.3 of Alchemy Mobile, which contains some of the most significant additions to the Pro version of their free Alchemy Mobile iOS app to date.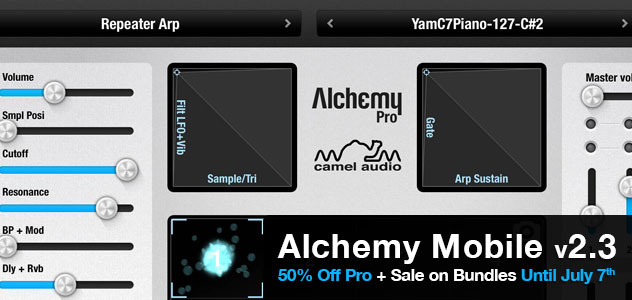 With the Pro version you can now create your own presets using samples imported from Dropbox, iTunes, other apps or any of the samples available in Alchemy Mobile's extensive range of sound libraries.

Creating presets is easy – simply select from a comprehensive range of templates including granular pads, stretched soundscapes, distorted arps and drum kits, then choose your samples and customize the remix pads to create your own unique Alchemy presets.
Changes in Alchemy Mobile v2.3
Tap and slide away from controls for increased accuracy.
Double track length for longer overdubbing.
Audiobus 2 support for even better integration with your other apps.
Numerous other improvements and additions.
[Pro] Import samples and create your own presets using templates (go to Sound Libraries > User).
[Pro]Create your own remix pad variations.
[Pro]Support for Audiobus 2 project saves.
[Pro]Note erase mode – easily edit your recordings.
The Pro Upgrade is available at 50% off until July 7th, 2014. All Sounds Bundles are priced at 50% of the cost of purchasing the products individually.
Visit Camel Audio for more information.