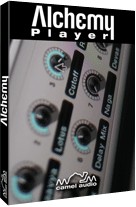 Camel Audio has updates its Alchemy Player instrument for Windows and Mac to version 1.55.
Alchemy Player v1.55 is a major update, designed to keep inspiration flowing with probably the most fully-featured sound browser available anywhere, faster preset loading times, improved remote control from the Alchemy iOS app, and many more enhancements.
Changes in Alchemy Player v1.55
New Browser Features

Search presets by Category, Subcategory, Genre, Sound Library, Sound Designer, Articulation or Timbre.
All Alchemy and Alchemy Player Sound Libraries tagged to make finding sounds a breeze.
One click rating of presets and sort by rating or alphabetically.
Add user tags, so you can tag presets associated with a particular project or live set.
Easy to use tagging of presets including the ability to apply tags to multiple presets.
Free text search of all fields including preset name.
Add comments to presets for playing suggestions or other notes.
Browser displays image for each Sound Library.

Other New Features

Polyphonic pitch bend using Alchemy Mobile for an incredibly expressive way to play instruments.
Faster preset, SFZ and project loading and saving.
Faster startup and switching between instances.
Improved MIDI bank and program change handling.
Improved SFZ support – 'transpose' opcode added and samples mapped correctly for eg. salamander grand piano SFZ.
Added inverse Mod Wheel options.
Further improvements to filter drive.
Improved stability in all hosts.
Windows now has integrated 32-bit & 64-bit installer.
Add SFZ middle C parameter to config file – use a value of 48 for SFZ standards compliance.
Permanent remix pad octave switch set in config file.
– allowed values are: None, -2 to 8.
Program and bank change messages now processed in offline mode.
Alchemy now sends remix pad values to Alchemy Mobile.
Alchemy Mobile preset list now limited to 128 entries for better performance.
Improved audio handling in Cubase.
Improved performance in all versions of Pro Tools.
Improved automation handling in Pro Tools.

Bug Fixes

Fixed SFZ transpose amount for round-robin samples.
Fixed rare crash when selecting presets.
Fixed Arp Latch mode in Digital Performer.
Fixed behaviour of File -> Change Data Folder.
Fixed Located Data Folder "Cancel" prompt.
Fixed MIDI program change messages to multiple instances causes crash.
SFZ import now initialises with lowest available key switch.
Changing presets may cause remote preset list to reset to "default".
"SFZ" in folder name causes Import Audio browser to break.
Perform section Clear now calculates correct source amplitude.
SFZ op code sw_last keyswitch now sticky.
MIDI Program Change no longer requires the GUI to be opened once.
Fixed association of installer with Camel Sounds files.
Fixed Alchemy and Alchemy Player rare crash in Pro Tools.
Fixed performance control values not always recalling with project.
Fixed error loading presets on some systems.
Mono voice presets now observe note off in Sonar.
Alchemy Player causes iLok validation error for some Pro Tools users.
Fixed crash on tempo change in Logic.
Fixed automation recording and feedback from Alchemy Mobile to Pro Tools.
Fixed setup deleting key files if user selects data folder.
Alchemy Player for Windows and Mac (VST/AU/RTAS) is available to download at no cost.
Visit Camel Audio for more information.